Since the last few years, the prevalence of Oral cancer, or mouth cancer, has become quite prominent in Asian, European, as well as American regions. For example, the standardized occurrence rate in India is around 12.6 per 100,000 people, while in the case of Papua New Guinea, it increases to 20.4. 
The statistics may not seem to be that crucial at first. However, if you do take the whole population of these countries into concern, then the numbers will seem a lot more alarming than usual. Another report in this aspect has revealed that around 330,000 people die due to oral cancer in the whole world. And the number is increasing on a yearly basis. 
To combat the increasing rate of oral cancer, the treatment procedures are advancing quite massively in India. There are several hospitals available in the country that can save you from the health condition and keep your precious smile intact. So, there is no need to worry about it!   
 Table of Contents
1. Why should you choose India for Oral Cancer Treatment?
Oral cancer is currently treated in several different countries in the world. However, still, most people choose the Indian hospitals for the treatment. The following are a few of the reasons, which prompt them to do so. 
Cost-Effective

: Unlike the Oral cancer treatment of other countries, the treatment procedure in India is cost-effective.

Reduced Cases of Mortality:

Due to the higher success rate of Oral cancer in India, the cases of mortality is too low here as well. 
High Success Rate:
In all honesty, the overall success rate of Oral cancer in India is pretty high. The one-year survival revolves around 81%, while the five-year rate can go up to 56%.
Ease of Acquiring a Medical Visa:
Getting a medical visa for traveling to India is pretty simple and, thus, can be acquired by almost anyone.
2. What are the stages of Oral Cancer?
The staging procedure of Oral cancer helps the doctors to perceive the condition and overall growth of the tumor. After assessing everything, they will begin working on the treatment strategy. 
Stages of Oral cancer 
The staging system of Oral cancer is as follows – 
Stage 0 or CIS

: Stage 0 is considered to be the earliest phase of Oral cancer. Many doctors also deem it to be a type of pre-cancerous condition. 

Stage 1

: The doctors generally mark the earliest phase of invasive cancer as Stage 1. During this stage, the tumor tends to have a size of less than 2cm and a depth of 5mm or lower. 

Stage 2

: In stage 2, the cancerous tumor can get bigger than 2cm and deeper than 10mm. However, it will not spread to the closest lymph nodes.

Stage 3

: During this phase, the tumor starts growing more and reaches the nearby lymph nodes. 
Stage 4
: It is the most advanced stage of cancer and can be categorized into three different parts, 4a, 4b, and 4c.  
During the 4a stage, cancer will remain in your mouth and its surroundings.

However, stage 4b means that it has grown further than your jaws.

Lastly, stage 4c depicts that cancer has spread to the other parts of your body.
Grades of Oral Cancer 
The gradation of cancer generally depicts the similarities between cancer and normal cells. Here are a few details about it.
Grade 1 generally means that the cancerous cells do look similar to the healthy cells of your mouth. 

During grade 2, they will start looking a little bit different than the healthy cells. 

In the 3

rd

grade, the cancer cells start looking quite abnormal and different from the normal cells.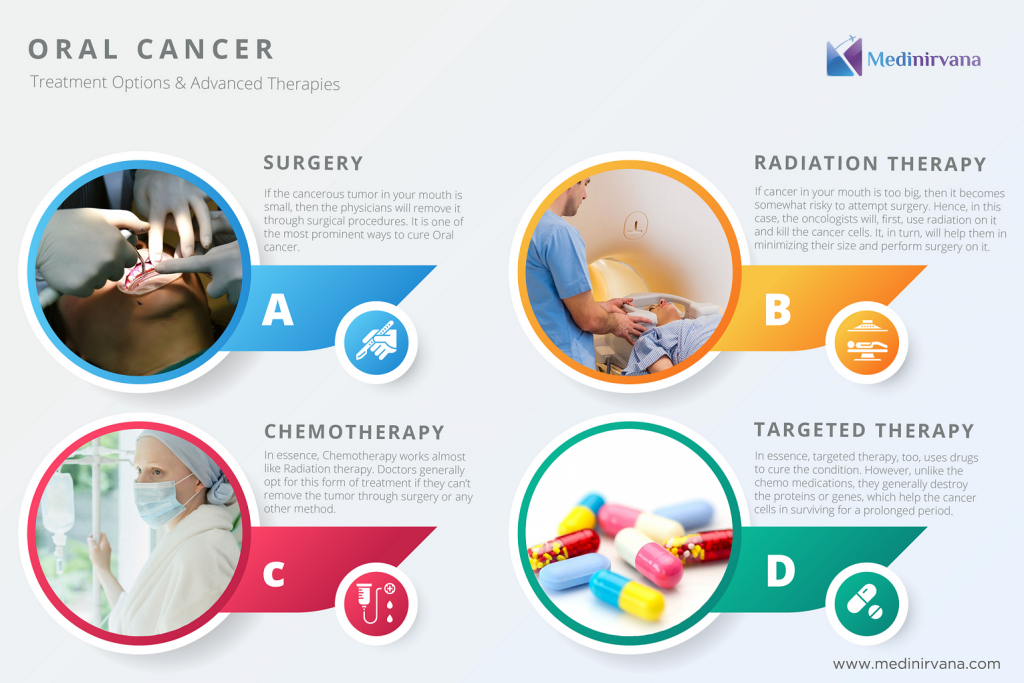 3. How can you get the best oral cancer Treatment in India?
To get the best treatment for your disease, you will have to choose the hospital that provides all the following treatment options. Moreover, you will need to know about the factors that increase your overall expense to some extent. Hopefully, this section will help you out in this aspect. 
The following are some of the common treatment procedures that can be employed to treat the condition. 
Surgery

– If the cancerous tumor in your mouth is small, then the physicians will remove it through surgical procedures. It is one of the most prominent ways to cure Oral cancer. However, if your health condition isn't good enough, then the doctors will try to find some other ways to treat the issue
Radiation Therapy

– If cancer in your mouth is too big, then it becomes somewhat risky to attempt surgery. Hence, in this case, the oncologists will, first, use radiation on it and kill the cancer cells. It, in turn, will help them in minimizing their size and perform surgery on it.
Chemotherapy –

In essence, Chemotherapy works almost like Radiation therapy. Doctors generally opt for this form of treatment if they can't remove the tumor through surgery or any other method. 
Targeted Therapy

– In essence, targeted therapy, too, uses drugs to cure the condition. However, unlike the chemo medications, they generally destroy the proteins or genes, which help the cancer cells in surviving for a prolonged period.  
What is the cost of Oral Cancer Treatment in India?
The average cost of oral cancer treatment in India is around INR 3.50 lakhs to 4 lakhs. In case of targeted therapy, the cost can rise up to INR 5 lakhs approximately.
Factors that Can Affect the Expense of Oral Cancer Treatment in India 
As stated before, several factors can affect the cost of Oral cancer treatment. The following are some of them.
Hospital Factors:

If you have chosen a high-end hospital for your treatment, then they will naturally charge you more than usual. For example, the clinic, which employs advanced forms of radiation therapy, would naturally cost more than those who tend to use the traditional methods.

Medical Team Factors:

A medical team, which is highly-experienced in the field of oncology and has a better success rate, will unsurprisingly be more expensive. However, it doesn't mean that the startups are, in any way, less efficient than them. Nonetheless, they tend to ask for a small amount of price for getting more attention from the patients.

Patient Factors:

Besides cancer, if you are suffering from any other condition, then your doctor might treat it first. For instance, if you are suffering from high blood pressure, then the doctors will provide medications on it first. After the condition is controlled, then they will proceed with the cancer treatment. It might increase the overall cost as well. 
Why Choose Medinirvana?
Unlike most other healthcare domains in India, Medinirvana is highly cost-effective and provides the chance of consulting with experienced surgeons. We are equipped with modern technology that will help you to get the right treatment for oral cancer. We provide top-notch hospitality to our consumers.
4. What to Expect While Considering Oral Cancer Treatment in India?
Like any other type of cancer, Oral cancer, too, is highly treatable if it has been diagnosed early. Also, the recovery procedure would prominently depend on the treatment procedure. For example, if you were treated through surgery, then you may require a little bit of time to recover entirely.
However, there is no need to worry, as Medinirvana will guide you through every step and expose you to the best healthcare service so that you get excellent follow-up care. Furthermore, we will also monitor your whole situation pretty closely to see if you do require a follow-up treatment procedure or not. 
5. What should be on your Checklist while choosing an oral cancer treatment center?
It is not a good idea to choose any oral cancer treatment center from the pile. You would have to create a proper checklist before doing so. Here are a few pointers that you may add there.
Expertise:

You can evaluate the organization's overall expertise by going through their previous works, overall success rate, etc.  

Experience of the Doctors:

Even though Oral cancer is highly treatable, you should, still, opt for the best pair of hands. Due to this reason, checking out the overall experience level of the doctors becomes quite crucial as well. 

Usage of Technology:

The better the technologies, the higher are the chances of recovery from the disease. 
Ratings and Credentials:
It is imperative for people to check the ratings and credentials of the hospital for oral cancer treatment. At Medinirvana, you will get all the details to check the credibility of the hospital before you sign up for their medication. It will help you to understand more about the treatment quality of the hospital. 
Take Away
In truth, Oral cancer is highly treatable and curable. However, for that, the doctors will need to diagnose the disease at an early stage. Due to this reason, many oncologists subtly request smokers or alcoholics to go for mouth screening at least twice a year. Otherwise, it becomes almost impossible for anyone to find a trace of the condition. So, if you do smoke or chew tobacco regularly, then going for yearly check-ups can be an excellent idea for you.