Trauma, accidents, obesity, back-related disorders are common causes behind spinal cord disorders. Depending upon the severity of the injury, varying degrees of disabilities might result, the person reducing to the state of immobility or even worse. A way to overcome these conditions is to treat the injuries in the right time at the right centre.
Spinal disorders leading to back pain and other issues is one of the most common health problems affecting a large number of people worldwide. In India the spinal surgery is one of the fast-growing and evolving segments in the orthopaedic industry. Many leading Indian players have made significant advancements with respect to surgical technique and the country held a share of 16.2% in the Asia-Pacific thoracolumbar spine devices market in 2018
As per the government of India, a large number of tourists from the US, UK, France, Germany, Iran, Maldives, Oman, Afghanistan etc. visit the country every year.
India offers skilled healthcare personnel and excellent services for spinal surgeries at comparatively low prices than the other countries, hence driving medical tourism to the country.
Table of Contents
Feel free to skip ahead if one topic catches your eye:
1. What conditions can be treated using spine surgery?
In most cases of spinal cord deformities, treatments are available ranging from simple exercises, traction, casting, bracing, chiropractic treatment or surgeries.
Degenerative disc disease:

this is a condition where one or more of the discs between the vertebrae of the spinal column deteriorate mostly due to aging.

Herniated disc:

Injury to the spine, hereditary disease or wear and tear due to aging results in development of herniated disc. 

Lumbar spinal stenosis:

The condition is a result of wear and tear of the spinal cord nerve, due to the aging process. Surgeries for spinal stenosis are aimed to relieve pressure on spinal cord.

Spinal deformities such as scoliosis:

It is related to abnormal curves on the spine causing clumsiness or weakness and physical deformity.

Spinal infections:

Bacterial or fungal infection to the spine can be a result of spinal trauma, infection through blood and symptoms are severe back pain, fever, numbness in hands or legs, etc.

Spinal instability including spondylolisthesis:

this is a deformity in the lower vertebra where one of the lower vertebra slips and creates pressure on the spinal nerve.

Vertebral compression fractures

or spinal fracture happen mainly due to accidents, excessive physical injury, etc. The condition is also caused due to osteoporosis. 

Spinal tumors:

There are different types of tumors that show specific symptoms and require specific methods of treatment.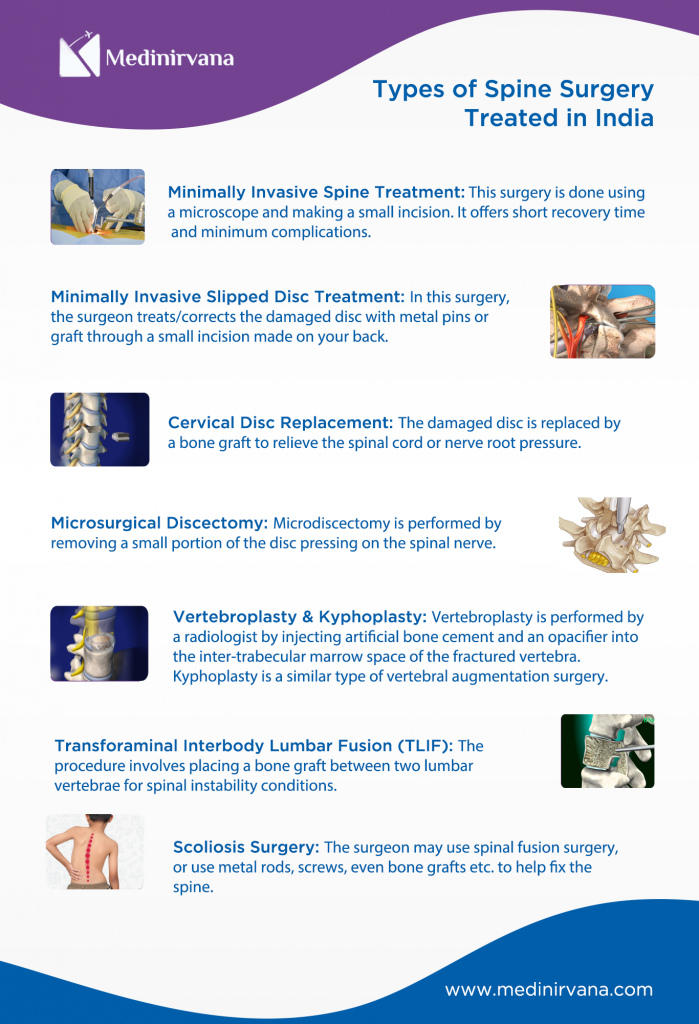 2. What are the types of spine surgery treated in India?
Minimally Invasive Spine Treatment

(2.5 lakhs onwards)
As the name suggests, surgery is done using a microscope and making a small incision. The minimal invasive surgery offers short recovery time and minimum complications.
Minimally Invasive Slipped Disc Treatment

(7.5 lakhs onwards)
In this surgery, the surgeon treats/corrects the damaged disc with metal pins or graft through a small incision made on your back.
Cervical Disc Replacement

(5.5 lakhs onwards)
The damaged disc is replaced by a bone graft to relieve the spinal cord or nerve root pressure.
Microsurgical Discectomy

(2.5 lakhs onwards)
Microdiscectomy is performed by removing a small portion of the disc pressing on the spinal nerve.
Transforaminal Interbody Lumbar Fusion (TLIF)

(7 lakhs onwards)
The procedure involves placing a bone graft between two lumbar vertebrae for spinal instability conditions.
Vertebroplasty & Kyphoplasty

(3 lakhs – 8 lakhs)
Vertebroplasty is performed by a radiologist by injecting artificial bone cement and an opacifier into the inter-trabecular marrow space of the fractured vertebra. Kyphoplasty is a similar type of vertebral augmentation surgery
Scoliosis Surgery

(7 lakhs – 11 lakhs)
The surgeon may use spinal fusion surgery, or use metal rods, screws, even bone grafts etc. to help fix the spine.
Success rate for spinal surgeries
Overall success rate of spinal surgeries in well renowned hospitals is 90-95% with only 5% of patients may face issues mainly due to age, their medical history and other health issues. 
3. Why Choose India while Considering Spine Surgery?
India is well known for many expert spinal surgical centres having high success rates for all types of spinal surgeries and many advanced surgeries such as robotic spinal surgery are offered by the best hospitals at lower cost than other developed countries of the world.
Getting a medical visa is extremely simple and the government of India's Visa Policy allows visitors to come for medical treatment to India through the new hassle-free e-Medical Indian Visa which is available online.
The surgeons are known for their high qualification, depth of experience, state of the art equipment and safety standards to deliver the best results.
The surgeons and staff are fluent in English and many multi-specialty hospitals offer translators for ease of communications to overseas patients.
The high quality spinal care and treatment are provided along with the world-class service and advice from experts for future spine problems. 
 4.
Checklist: While Considering Spine Surgery
While searching for a hospital in India, you need to check the following points:
Check ratings of the medical centre and the surgeon, patient reviews
Check how advanced they are in the specific spinal surgery procedure and if they have the latest cutting edge techniques
It is very important that the surgeon is qualified and experienced in the field.Choose a surgeon who is board-certified and affiliated with a reputed centre
Check accreditation from National Accreditation Board for Hospitals, Healthcare Providers (NABH) or Joint Commission International (JCI).
In light of COVID-19, take necessary precautions while traveling by adhering to social distancing as well as personal hygiene.
How to Prepare for Spine Surgery in India?
Before two to three weeks before surgery avoid smoking as it intervenes with your healing process.
Also, avoid anti-inflammatory drugs or any other blood-thinning medicines before surgery. These medications often create complications. 
You must understand the surgical procedure you will be going under, ask your surgeon all the questions including the procedure, precautions to take before and after and also discuss the risks, complications that might occur.
5. Factors that can affect your risk for spine surgery
Before the surgery your surgeon will explain the following risk factors of the surgery:
Age:

If you are 65 or more, surgery might create more risks for you. 

Overall health:

If you have other health issues such as diabetes, you need to take extra precautions to ensure a successful surgery and recovery.

Smoking status:

Smoking affects the blood circulation and thus results in wound healing problems or infections.
Osteoporosis:
Patients with osteoporosis are at increased risk for complications and surgeons recommend use of braces for extended time periods for successful healing.
Previous surgical experience:
Talk to your surgeon if you had any complications from anesthesia, bleeding or infection from previous surgery and he/she will recommend the best treatment plan accordingly.
6. What can you expect from the procedure?
Pre-operative expectations: 
Before operation, the surgeon will collect all the information about your health status, medical history, previous surgical experience, side effects from any medications, etc. 
The post-procedure includes: 
The healing/recovery period for spinal surgery is around 3 – 4 months. The minimal invasive surgeries offer better recovery time.
The surgeon will prescribe certain pain medications along with antibiotics.
You will be staying in hospital for 3-5 days depending upon the extent of your surgery and post-discharge you will be given after care instructions to follow. 
Take Away
If you are suffering from severe back pain, back pain along with other constitutional symptoms, pain followed by any neurological problems, etc. or you are detected with spinal disorder that cannot be treated with non-surgical options, then surgical intervention is the best decision for you. India has renowned surgeons and centres with a high degree of skill, expertise in spinal surgeries, and offers a range of traditional and minimally invasive surgical treatment options for the spine.