Be it a woman wanting to augment her breasts for a fuller and better shape or an individual undergoing liposuction to extract the excess fats out of their body, more and more people are undergoing cosmetic surgery to enhance their physical attributes to look better.
Out of all the countries in the world famous for their cosmetology procedures, India ranks in the fourth position. According to a survey conducted by International Society of Aesthetic Plastic Surgery (ISAPS), India was listed at the fourth rank accounting for 5.2% of the overall procedures conducted in the 25 countries listed in the survey.
With the threat of coronavirus, the cosmetology industry, like several others, had come to a standstill. With the gradual reopening and people adjusting to the "new normal," the rate of bookings for cosmetic surgeries has peaked again, and India is one of those hotspots.
But, is it safe to undergo any such procedures during a pandemic? Scroll down to know further.
Table of Contents
Take Away
Which Services Does India Provide in Cosmetic Surgery?
Much like any other country that excels in cosmetology, the certified Indian plastic surgeons provide a wide range of options. Ranging from the cosmetic surgeries to some of the minimally invasive procedures, the options are extensive. 
In case you are planning on undergoing a procedure, here's a list of the services that are provided in India.
Cosmetic Surgery for the Face
Face lift – Also termed as rhytidectomy, this procedure is done to reduce wrinkles and sagging skin, especially around the cheeks and jawline. People get this done to attain a younger-looking face.

Eyelid Surgery – Also termed as blepharoplasty, it is done to get rid of the bagginess around the eyes and remove excess skin present on the upper eyelids.

Ear Surgery – Medically termed as otoplasty, this procedure is done to correct the ears' shape, size, and position as per the individual's likings.

Brow Lift – Also often known as a forehead lift, this procedure is done to enhance an individual's forehead and brow features. It does so by working on the soft tissue around the forehead and brow region.

Cleft lip – This surgery is also known as rotation advancement repair to rearrange the lips' appearance to give it a more closed appearance for proportionate appearance and comfortable speech.

Rhinoplasty – This surgical process improves the nose's shape for enhanced physical appearance and medical reasons.
Cosmetic Surgery for the Body
Gynecomastia – It is men's breast reduction procedure that helps correct the overdeveloped breasts' appearance in men.

Power-Assisted Liposculpture (PAL) – It is a type of liposuction that uses a vibrating cannula to break down the fats in a specific portion of the body. The larger chunks of fat are broken down into smaller entities, making them easier to remove from the body.

Scar Revision – It helps with the permanent removal of scars on the body and improves the skin disfigurement brought about by an injury.

Vaginoplasty – This cosmetic surgery helps restore the tightness of the loose skin of vagina caused by a normal birth or because of aging.

Abdominoplasty – Commonly known as tummy tuck, this procedure is done to tighten the area around the belly and lower abdominal region. It removes the excess skin and fats around the area to give the tummy a firmer look.

Breast Reduction and Uplift – It helps reduce the appearance of larger breasts in women, causing a sagging appearance. The procedure reduces the size of the breasts and lifts them to have a firm appearance.
Along with these significant procedures, the Indian cosmetology department also provides services like Skin Flag grafting, thigh lift, arm lift, and breast augmentation, to name a few.
How Can You Plan Your Medical Tour to India?
India has rapidly grown in popularity as the Plastic and Cosmetic surgery hub for medical tourists because of the high-class services that are economically affordable.
The Indian surgeons also have higher success rates and are touted as one of the best worldwide. According to their likings, foreigners from across the world are flying to India to achieve a chiseled look and enhanced facial and body features.
Here are a few factors that you need to prioritize before flying to India for a procedure.
Conduct thorough research about the procedure and the facilities available in India

Reach out to a renowned plastic surgeon to have a one on one consultation before finalizing the details

Look up flights, visa, and other travel-related processes after that

Ensure that you carry your identity proof along with Visa, Passport, local ID, hospital recommendation letter

Book a hotel closer to the hospital that you will undergo surgery in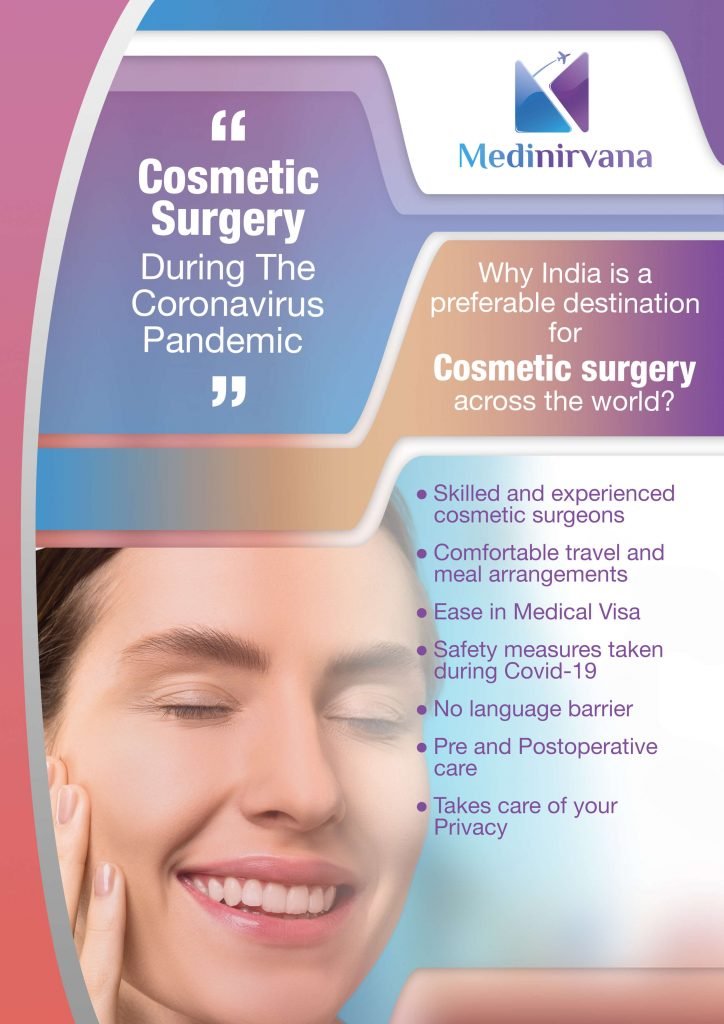 How Has Covid-19 Affected the Process?
While planning your medical tour to India followed the steps mentioned above, things have changed drastically due to the prevailing pandemic. Individuals now have to take better care before, during, and after the tour.
Before Travel
Submit a self-declaration form clarifying your health status. It needs to be done 72 hours before the travel date

Ensure 7 days of institutional quarantine followed by self-isolation at a hotel, all at one's own cost
During Travel
Follow the WHO protocols concerning personal hygiene, wearing masks, and practicing social distancing

Avoid using cash for making payments. Instead, stick to digital modes of payment.

Carry an alcohol-based sanitizer for added protection.

Wash your hands frequently with soap and water for 20 seconds.
After Arrival
Again, fill out a self-declaration form for consequent submission

Walk through thermal screening upon arrival. If found symptomatic, the individuals will be isolated immediately.

Isolate as per the Indian government rules after arrival.

Patients might have to undergo Covid-19 tests before the treatment.
Why Do People Prefer India for Cosmetic Surgery across the world?
India is not just popular for their cultures and traditions but also for their medical advancements and the skilled professionals in the country.
Here's why people rely on India more for cosmetic surgery:
Skilled and Experienced professionals-

Plastic surgeons in India are exceptionally skilled. They are known for their precise services and improving one's appearance with precision. The procedures are also conducted by retaining the actual proportion of the face and the rest of the body. The available medical equipment and infrastructure is pretty rewarding too.
Comfortable travel and meal arrangements-

Indians are known for their hospitality, so medical tourists rely on India for undergoing the surgeries. The hospitals are equipped with the skilled doctors and infrastructure to provide successful treatment results. The nurses and other medical staff further take care of the patient's nutritional needs by catering them balanced meals and necessary medication on time.
Ease in Medical Visa-

Having an e-Medical visa or PIO card is necessary to proceed with any cosmetic surgery in India. India is known for prompt documentation and timely sanctions of medical visas for smoother progress of the treatment.
Safety during Covid-19-

Even with the ongoing pandemic, Indian hospitals and professionals are prioritizing the safety of their patients first. Operation theatres and the whole hospital is sanitized multiple times a day. The doctors are equipped with PPE kits, and they conduct telecommunication for lesser human interaction.
No language barrier-

Given that Indian doctors are fluent in English, communication is never an issue with medical tourists. In case there are other languages involved, translators, can be easily arranged for more accessible communication.
What is the cost of different cosmetic surgery in India?
Here is a breakdown of the costs of different cosmetic surgeries in India.
Breast Cosmetic Surgery

Breast Enlargement

INR 1,10,000

Breast Reduction

INR 1,10,000

Breast Lift

INR 1,10,000

Gynecomastia

INR 65,000
Entire Body Procedures

Liposuction

INR 45,000 (per body part)

Tummy Tuck

INR 1,10,000

Arm Tuck

INR 1,10,000

Body Lift

INR 1,50,000

Thigh Lift Surgery

INR 1,30,000
Face Procedures

Face Lift

INR 1,50,000

Nose Surgery

Up to INR 1,20,000

Brow Lift

INR 75,000

Jaw Surgery

Up to INR 1,50,000

Scar Revision

Up to INR 50,000

Eyelid Surgery

INR 30,000 per lid
Non-Surgical Procedures

Botox

INR 300 per unit

Fillers

INR 30,000 per ml product

Laser

Varies on the number of sittings required
Aside from the actual procedure, there are accessory costs involved in traveling, quarantine facilities, food and post-operative care, and hotel expenses.
India is famous across the world for its cost-effective treatment facilities with the latest technology and infrastructure.
The success rates of cosmetic surgery in India is profound. The country has some of the highly skilled cosmetic surgeons who are known for their precision of work. From cleft palate surgeries to the cosmetic augmentation of one's personal attributes, the success rate in India is quite high.
Individual success rates in every field of cosmetic surgery varies on the type of treatment, the hospital it is done at along with the kind of infrastructure available.
What is the Recovery of Cosmetic Surgery in India?
The recovery is dependent on several factors, ranging from the type of treatment along with the severity of one's health.
Majority of the cosmetic surgeries require a timeline of 1-2 months of initial recovery after the hospital care..
Indian hospitals and doctors are known for providing prompt pre-surgery and post-surgery care that makes the whole recovery process a lot easier and effective in the long run.
Take Away
With the rapidly growing popularity of cosmetic surgery globally, India is evolving as a hotspot among medical tourists. The combination of skilled professionals with the latest medical technologies makes India the perfect country to book an appointment in. Every procedure is cost-effective compared to the other leading countries in this same field.
Covid-19 has changed the flow of the processes in the cosmetic field, but the quality is untampered. The facilities are prompt, and the results are worth every last penny that you spend. So, if you have been planning on opting for any plastic surgery or similar procedures, India is a very favorable option.