Heart diseases pose a major health risk to people of all ages, and an increasing trend of an unhealthy lifestyle is only going to propel this scenario. Cardiovascular diseases are incessantly increasing across the world, and this burden is estimated to climb to 82 million by this year. Among the CVD disease, atherosclerosis is very much prevalent, and coronary angioplasty – its primary solution is very much in demand. Countries all around the world like the UK, US, India, China, etc. are currently leading in providing coronary angioplasty to patients seeking the treatment. However, India is etching its mark in healthcare services, which is why there is a significant increase in in-patient, out-patient, and also medical practitioners. According to a recent report, there are over 1,400 interventional cardiologists in India, which means more and more of better quality coronary treatment in the country.
Table of Contents
Feel free to skip ahead if one topic catches your eye:
1. Who Needs Coronary Angioplasty Treatment?
Coronary angioplasty includes insertion of a thin tube or stent (or catheter) into your arteries. This tube is inserted through the arteries in your wrist, arms, groin, etc. The tube end is like a balloon which pushes any blockage in the artery of the heart and clears the path for blood passage. Below are some of the situations which require coronary angioplasty treatment:
Coronary angioplasty treatment is given to someone with blocked coronary arteries, a condition commonly known as

atherosclerosis

. When fat and cholesterol develop in the inner lining of the artery walls, the blood passage becomes difficult due to narrowed arteries.

The fat deposits are also known as

plaque deposits

, which can cause

a heart attack

. So when a person is suffering from a heart attack, cardiologists perform surgical angioplasty or percutaneous coronary intervention to provide immediate help to the patient.
Coronary angioplasty is a safe procedure, which not only eliminates heart risk but also poses minimal surgery-related risks.
Here are some of the benefits that you need to know:
Quick procedure – Since it is a minimally invasive surgical procedure, the recovery rate is faster.

 Anaesthesia might prove risky to heart patients, and during coronary angioplasty, there is no need to induce unconsciousness.

Increases survival chance in patients with a heart attack and cuts off any future risk of a heart attack.
2. How to Prepare For Coronary Angioplasty Treatment in India?
Document and paperwork

– Before travelling to India, checklist and arrange all the necessary documents required during onboard and after deboard. Documents like medical necessity letters, diagnosis proof, photographs, ID card, etc. are verified during the journey.
Secondly, before the surgery, you need to complete the paperwork. Another important thing to remember is carrying insurance papers – it will cover up the entire medical expenditure or some percentage of it, so you can enjoy an affordable treatment.
Preparing mentally and physically

– While going to get treated for coronary angioplasty, take good care of your health before the treatment.

Immediately stop smoking and drinking habits to reduce any adverse effect on your health during or post coronary angioplasty.

Consult with your doctor regarding taking any supplement or medicines before the procedure since some drugs might not be suitable for consumption before the actual treatment.

Talk to your doctors if you have any medical history of allergies with any food or medicines.

Do not panic before the treatment procedure, and openly discuss with the cardiologist about the pre, and post-care of coronary angioplasty.
Apart from these, if you face language barriers, skilled interpreters in India and translation technology can also help you understand and communicate in this country easily.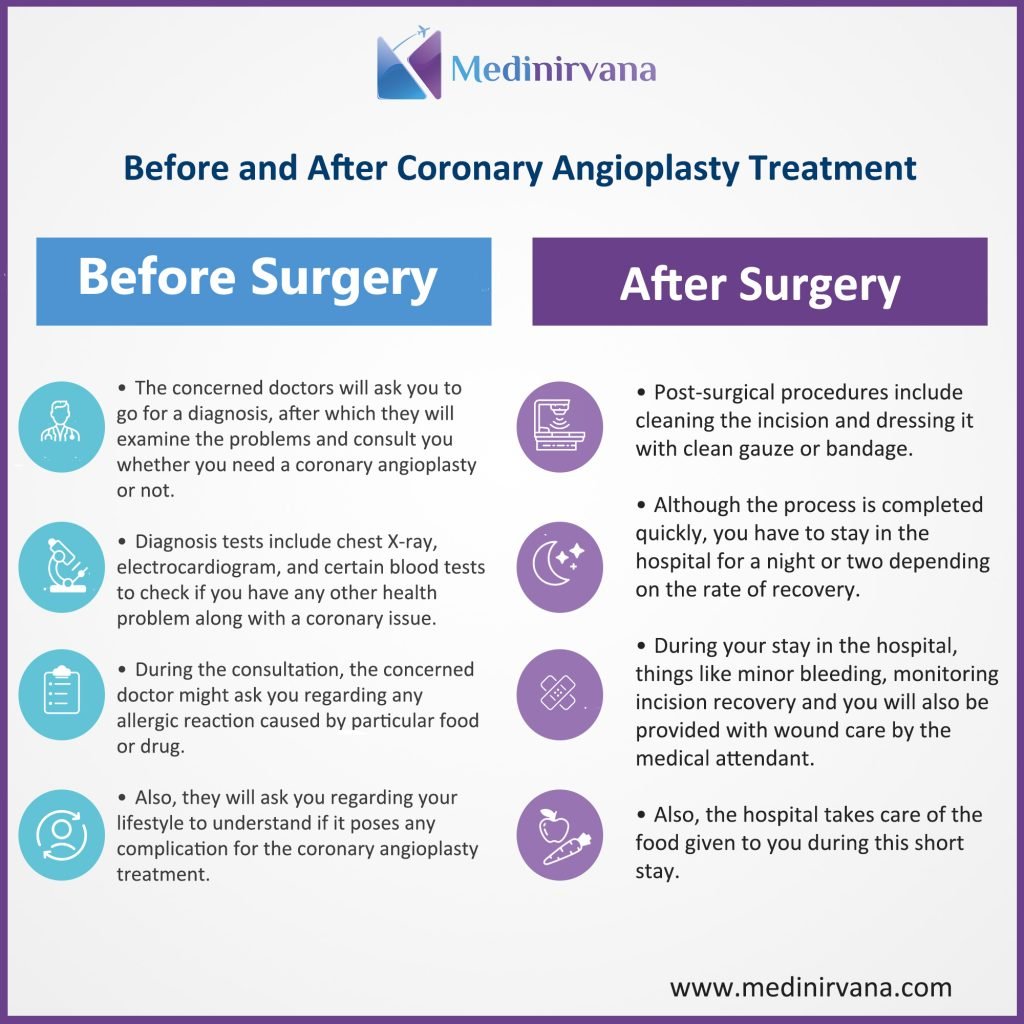 3. What to expect from the Coronary Angioplasty Treatment?
After you reach the desired hospital in India, you should be prepared for the diagnosis, doctor's consultations, surgery and post-surgery medical care. Here is the list of things that you can expect from coronary angioplasty procedure in India.
During the Surgery
The concerned doctors will ask you to go for a diagnosis, after which they will examine the problems and consult you whether you need a coronary angioplasty or not. 

Diagnosis tests include chest X-ray, electrocardiogram, and certain blood tests to check if you have any other health problem along with a coronary issue.

Also, they will ask you regarding your lifestyle to understand if it poses any complication for the coronary angioplasty treatment.

 is given, but you can also observe the entire process in this case.

During this treatment, a small incision is made on your wrist (most preferably), and a flexible stent is inserted to clear the blockage.

The cardiologist and other medical experts performing the treatment will be constantly administering your blood pressure, oxygen level, etc.
During the consultation, the concerned doctor might ask you regarding any allergic reaction caused by particular food or drugs to analyze any potential risk due to any medication injection or consumption.

Coronary angioplasty is a very quick process and generally gets completed within 1-2 hours. In minor cases, you may also observe the procedure because anaesthesia is not injected to the patients during this treatment. But in fewer cases, local anaesthesia
</div
After the Surgery
Post-surgical procedures include cleaning the incision and dressing it in clean gauze or bandage.

Although coronary angioplasty is a quick process, you have to stay in the hospital for a night or two depending on the rate of recovery. 

During your stay in the hospital, things like bleeding, monitoring incision recovery, and wound care are also provided by the medical attendant.

Also, the hospital takes care of the food given to you during this short stay.
4. Why Choose India for Coronary Angioplasty Treatment?
Looking for the best place to go for coronary angioplasty treatment? India is known for providing the best treatment, and the surgeons here will explain to you the A-Z of how the procedure will be performed in a way that you feel confident, comfortable, and motivated.
Treatment Cost

– Treatment in India is comparatively less costly than in the United States, and other foreign countries.

Technologies in India

– India is constantly striving to provide the best treatment to local and foreign patients. From using minimally invasive surgical devices, now India is jumping to perform coronary angioplasty with the help of robotic systems. While this new robotic stenting procedure is under progress, upon its success, India is likely to see a hike in patients flocking to its healthcare facilities for treatment.

If you are worried about visas and documentation, then you would be happy to know that medical tourism in India is the most preferred. Currently, India owns the third rank, globally.

Visa and Documentation-

In India, you will get visa and documentation done at ease and in a minimum time frame

The proficient and skilful cardiologists and surgeons are likely to provide you with the best medical treatment along with the hospitality and world-class infrastructure of the hospitals in India.

The hospital management takes care of the pre and post-operative care including diagnosis, health monitoring, food, medication, etc.

Looking at the current COVID-19 situation, you might fear travelling to India. But rest assured as the hospitals in India are taking complete precautionary measures to help the patients get the best of medical care and treatment.
Commendable Success Rate
– In India, the success rate of stent implantation and arterial blockage removal is calculated to be over
98%
according to a report made by the National Center for Biotechnology Information.
5. Recovery after Coronary Angioplasty Treatment
The recovery rate of coronary angioplasty is also dependent on two factors. First is the treatment due to an emergency, and the second is performed according to a planned procedure. The recovery rate is possibly a week or a month if it is an emergency step stimulated by a heart attack. It is because a heart attack is a serious issue, and the medical team will keep you in close monitoring and check your health progress. Whereas the recovery rate of planned coronary angioplasty procedure is one day to one week depending on how well your body is coping with the treatment.
Post coronary angioplasty treatment, there may be mild chest pain due to stent insertion in the artery.

Some people might notice a shortness of breath, and there may be instances of fatigue and weakness, so try to take as much rest as possible.
Do and Don'ts After Coronary Angioplasty:
It is advisable not to start any strenuous work until one week after the surgery.

No sexual activity for at least a week after the treatment

Restriction to immediate smoking. But you can continue it post one or two days after the procedure.

Check for any infection in the area of the incision, and consult your doctor immediately if you notice something unusual.
6. What is the cost of Coronary Angioplasty Treatment in India?
Indian healthcare attracts global attention because of its quality and cost-effective treatment. From the latest robotic technologies to the best surgeons, top-notch healthcare infrastructures to appealing hospitality – everything is available in this country. 
The massive difference between the price range is created by several factors such as:
The type of treatment used during the surgery -emergency treatment or planned procedure- plays a major factor. It also depends upon the technologies, devices, and medical expertise utilized in accomplishing the successful surgery.

Private, semi-private, and government hospitals charge different prices.

Depending on the type of room you choose – special ward, sharing ward, private ward, deluxe room, suite, etc. – the final cost will vary accordingly.

The more number of people included in the team (depending on the complication or emergency), the more will be the treatment cost.

If there is any complication and you require any medication – it will automatically get included in your bill.

Different stents are of different prices.

The Extended stay would also result in an additional diagnosis, follow-up care, and monitoring, which also increases the price.
Depending on the number of stents used in the coronary angioplasty, the cost of treatment is somewhere near 3 Lakh INR in India, whereas the same treatment costs INR 20,00,000 – 23,00,000 in the US.
Take Away
Indian healthcare experts and facilities are getting recognized for the top-class treatment and effective solutions provided to the patients. And if you are visiting India, you can completely rely on the medical expertise of the doctors and nurses, who have not only attended to critical cases in India but also in many foreign nations.
From budget-friendly treatment and medicines to a clean and safe hospital environment, you can experience the best coronary angioplasty treatment in India.