Hip replacement surgery is primarily done to relieve pain and to restore function in the hip joint. It is a safe surgical procedure involving replacing the damaged part of the hip joint with an artificial one. Your surgeon will recommend hip replacement if your hip joint is damaged as a result of disease or injury and other non-surgical treatments have failed to provide any relief.
The increasing number of hip osteoarthritis or hip injuries, rising obesity population along with the growing adoption of minimally invasive procedure surgeries are key factors for the rising number of hip replacement surgeries worldwide.
India is one of the leading destinations for hip replacement surgery providing exceptional orthopaedic service at a fraction of the cost compared to countries like the United States or the UK.
Table of Contents
Feel free to skip ahead if one topic catches your eye:
1. Who is the Good Candidate for Hip Replacement Surgery?
Arthritis is the main reason why your doctor will recommend hip replacement surgery. Before surgery, your doctor would suggest alternative treatments including simple lifestyle changes (weight management), physiotherapy, anti-inflammatory medications, etc.
Other surgical alternatives include:
Hip fusion:

This involves a fusion of hip joints using metal screws or plates to support the joint

Osteotomy:

This surgery involves strengthening the joints by cutting or reshaping the bones.

Subchondroplasty:

This is a minimally invasive technique focused on correcting subchondral defects in the acetabulum and femur by injecting bone substitute in joint fillings.
If your hip condition is not responding to analgesics or anti-inflammatory medications; if other surgical options are not suitable for your condition and pain is severe, hip replacement surgery is the right option for your condition.
Hip replacement is the right solution for you if you are suffering from a hip injury due to an accident and the result is a dislocation or damaged part of the entire hip joint. Also, a person suffering from cancer of bone or leukaemia, where one or more parts of the hip are infected and damaged is a good candidate for hip replacement. The result is constant pain, limitation to mobility, and difficulty in daily activity.
The hip replacement will relieve the pain, improve movement, correct any deformity, and ability to return to your normal activity.
You are a good candidate if you are physically fit for surgery, do not have any other health problems such as diabetes, heart problems, and smoking, or tobacco habits that might cause complications during your surgery. Your doctor will determine your suitability for this procedure by analyzing your medical history, and also by conducting a few tests.
2. How to Prepare a Medical Tour to India for Hip Replacement Surgery?
A large number of patients travel to India for hip replacement every year. Here are a few things you must carry with:
Your medical reports, blood reports, CT scans, X-ray files, etc.

Letter from the hospital, recommendation letter from your doctor (about why you need hip replacement).

Details of passport and Visa (valid period)

Details of the attendant, passport copy, Visa details, etc.
Your surgeon may ask you to get a physical and general health check-up done by your primary care doctor.
Before surgery is scheduled, your doctor in India will explain the entire procedure to you. Discuss your queries, what your expectations are, and understand the risk factors involved.
Your doctor may suggest some lifestyle changes to ensure you are in good physical condition before operation. These include:
Light exercise, Yoga to stretch and strengthen the muscles

Healthy diet plan

Avoiding smoking, tobacco, and alcohol for at least 2 weeks before surgery
 3. What to expect while considering Hip Replacement Surgery in India?
Before Surgery
Before you check into the hospital, learn everything you can about hip replacement surgery about your surgeon. Discuss details of recovery, and what precaution you must take.

Your surgeon will run a few tests to ensure that you are in the right health for surgery. The tests will include routine blood tests, a general health check, an X-ray, MRI, etc.

You are not eligible for surgery if you are suffering from dementia, severe osteoporosis, or alcoholism. Also, Smokers and other tobacco users are prone to a higher risk of complications.

To lower post-surgical risks, candidates are encouraged to quit smoking, tobacco, and alcohol for at least 2 weeks before surgery. Other instructions will include:

Avoid taking any blood-thinning medications 10 days prior to surgery.

Stop taking any herbal or homoeopathic medicines 10 days before surgery.
In India, highly-skilled surgeons use the latest and innovative techniques to achieve successful results.
During the Surgery
The operation takes place under anesthesia and takes us about one to two hours.
The surgeon will make an incision, through which the damaged part of the hip is removed. The artificial bone (made from metal, plastic, or ceramic components) is then placed into the place. Your surgeon will choose the type of prosthesis that best meets your needs. The artificial part is attached to the healthy part by using medical glue or cement. The incision is closed and bandaged.
In India, the latest minimally invasive technique is used to reduce pain and speed recovery. This offers patients the benefit of less tissue damage, more comfortable recovery, and rapid return to normal activities.
After Surgery
Your surgeon and medical staff will provide a set of instructions to follow for a speedy recovery and expected outcomes.
Avoid crossing your legs, and keep your feet flat on the floor.

Don't sit on low chairs and avoid sitting in one place for more than 30-40 min.

Avoiding bending forwards or lean forward while sitting.

Take care of your incisions, and apply moisturizing cream into the wound once the wound has healed.
 4. What is the recovery timeline after a Hip Replacement Surgery?
Post-surgery, you will be discharged after a week's time. The length of stay following hip replacement varies according to the type of surgery.
You will be given medication for pain relief when you leave the hospital.
Your return to work and driving will be directed by your surgeon based on your improvement.
There are certain potential risks and complications involved and few factors that might affect recovery including your age, type of surgery, prosthesis, reaction to anesthesia, etc. Discuss with your surgeon what precautions can be taken to avoid these complications.
You must take good care, continue physiotherapy as advised, and follow all post-surgery medical advice so that you can make a successful recovery.
In the initial days, use a cane or walker. Some patients can walk without support within the first two weeks; your surgeon will let you know if you should continue on crutches for a set time.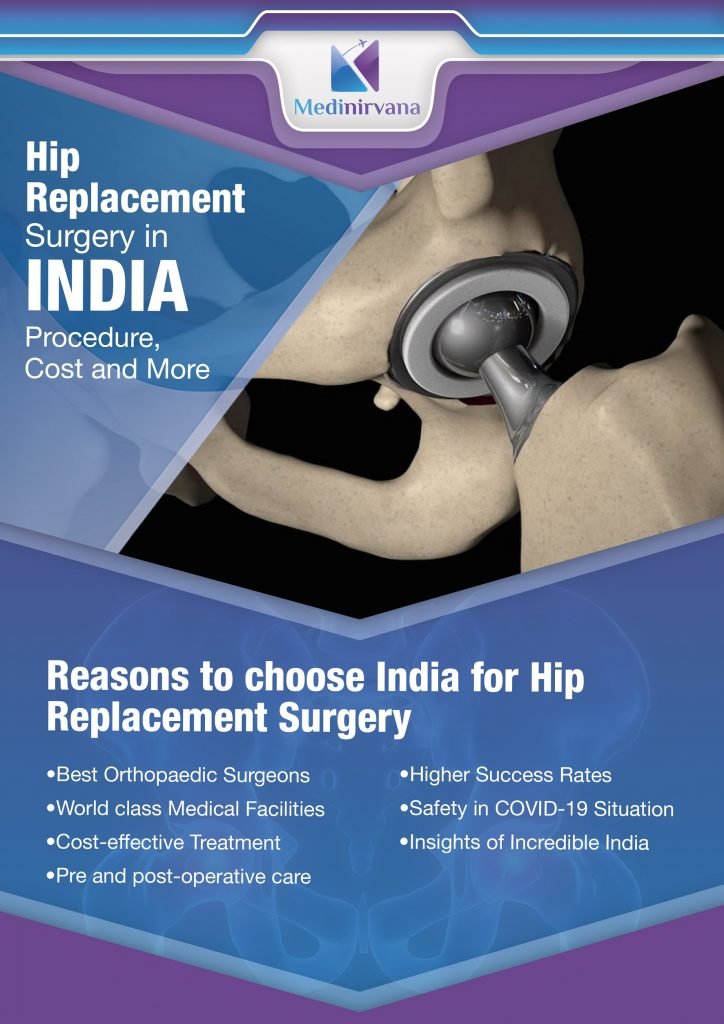 5. Why choose India for Hip Replacement Surgery?
Travelling to India for medical tourism is a popular option for the following reasons –
Most premium hospitals offer international health care standards.

Many surgical experts for orthopaedic surgeries in India offer the highest quality of care using their wealth of experience in the industry and knowledge of the latest technological advancements.

Hip replacement is one of the common orthopaedic surgeries that take place in the country. The success rate of hip replacement surgery in India is over

95 percent

. The surgery is available with minimally invasive techniques, like laparoscopic surgery that benefits faster recovery and fewer complications.

Many renowned healthcare facilities offer end-to-end services to International Patients. In COVID situations special care is taken for medical patients during their travel, treatment duration, and post-op time.

The cost of surgery is very low compared to other countries offering treatments of the same standard

India offers easy Visa services to overseas patients and also provides visa extension, which consequently helps to increase treatment options available.
Every year so many people from countries like the US, UK, Australia, Canada, etc. come to India for hip surgery.
Source: https://www.hss.edu/conditions_hip-knee-replacement-surgery-faqs.asp
https://medigence.com/blog/hip-replacement-surgery-cost-in-india/#what-is-the-success-rate-for-hip-replacement-surgery-in-india
https://www.yashodahospitals.com/hip-replacement-surgery-cost-in-india/
6. What is the cost of Hip Transplant surgery in India?
The cost of hip replacement varies according to the following factors:
Type of surgery (single, bilateral) or (minimally invasive, robotic surgery or open, conventional surgery)

Type of implant (ceramic-on-ceramic, and ceramic-on-metal)

Choice of surgeon and hospital

Reputation of hospital

The health of the patient (including age, current physical health)

Choice of the city (price differs from city to city in India and charges in tier-1 city are higher)

Duration of hospital stay

Additional service
As per recent government regulations, the implants are available at a cheaper rate which reduces the overall cost of the surgery.
Travelling and accommodation will cost extra.
Overall the Hip Replacement surgery cost in India is more than half the cost, as compared to other western countries such as the US, UK, etc.
For example:
The cost of surgery in the US is (32,000 USD), UK (10,000 USD), South Korea (21,000 USD), Mexico (13,500 USD), while the cost of treatment in India is from 7000 USD (3 lakhs rupees onwards).
Source: https://www.tourmyindia.com/medical-tourism/blog/total-hip-replacement-comprehensive-guide/
https://www.clinicspots.com/what-is-the-hip-replacement-surgery-cost-in-india
https://medport.in/cost-of-hip-replacement-surgery-in-india/
Take Away
India is leading the medical tourism thanks to its high-quality treatment, competitive low cost of medical care, and well-established tourism industry.
The country is known for highly-skilled Joint replacement surgeons offering cutting-edge technology, superior treatments, and highly successful results; and has delivered consistent healthcare to patients from across the globe over the years.
If you are seeking hip replacement surgery, healthcare services in India will assist you right from an accurate diagnosis to successful outcomes and improve the quality of your life.