"India has rapidly grown in its popularity for dental treatments and is now among the most visited destinations in the world"~ Medinirvana
Dental tourism is one of the popular attractions for people seeking dental treatment at low costs. This is because people who don't have dental coverage require quality dental work at affordable prices.
Thousands of foreigners travel to India every year to get the highest-quality Dental care. Dentists in India are trained and certified to provide a range of dental implants, orthodontics, crowns, a full-mouth restoration, oral surgery, and more.
Traveling to India is convenient from many countries, and the medical Visa process is easy and hassle-free. With dental professionals who use cutting-edge technology, availability of affordable packages and top-quality dental prostheses India is building its reputation as a top-class dental care destination. If you need a dental crown, consult an expert in India to help you fully restore your beautiful smile.
Table of Contents
Feel free to skip ahead if one topic catches your eye:
1. How are dental crowns helpful in restoring a tooth?
Dental crowns offer incredible practicality by improving the function of teeth and also offering cosmetic transformations.
What is Dental Crown?
The dental crowns are artificial fixtures that sit over the existing tooth and serve as an alternate for missing teeth. The primary goal of crown is to restore functionality of teeth, improve strength and improve overall appearance.
Why do you need Dental Crown?
Your dentist will recommend a dental crown if you have:
To protect a weak tooth by restoring the function and look of your teeth which have been badly damaged or lost

To restore broken, worn out or fractured tooth

To cover dis-colored teeth by cosmetic modification that cannot be fixed by the simple tooth whitening process.

To prevent teeth from shifting positions

To support the teeth with larger filling in case natural structure is worn out
The crowns are made from porcelain or acrylic. The dentists use the latest technologies to ensure that your crowns match your natural teeth and that will surely give your smile a great makeover.
 2. What is the Procedure of Dental Crown placement?
When you visit the clinic in India, the doctor will begin with a detailed examination of your oral cavity. This will include physical examination as well as X-ray and other scans such as CT as required. Based on the preliminary examination your doctor will recommend if you are a suitable candidate.
During procedure
On the scheduled day, your doctor will give local anesthetic at the targeted site. He/she will ensure you are comfortable throughout the procedure. If required you are given light sedation for relaxation.
Next, the doctor will make a small incision on the gum and a drill will be used to remove the outer surface of the tooth. This is done to create space for placing a crown. Then the dentist will place a temporary crown for protection over your tooth. In the next appointment, the permanent dental bridge or crown is placed.
The crown is prepared as per your oral cavity and it fits correctly to your tooth and bite pattern.
In India, a qualified dentist with vast experience will give you the best dental service you deserve. From explaining the procedure, answering your queries to offering post-op support the dedicated team will help you every step of the way.
In some cases, extractions and implant placements have happened on the same day.
The entire procedure takes about an hour. It only takes two visits to restore your teeth and brighten up your smile.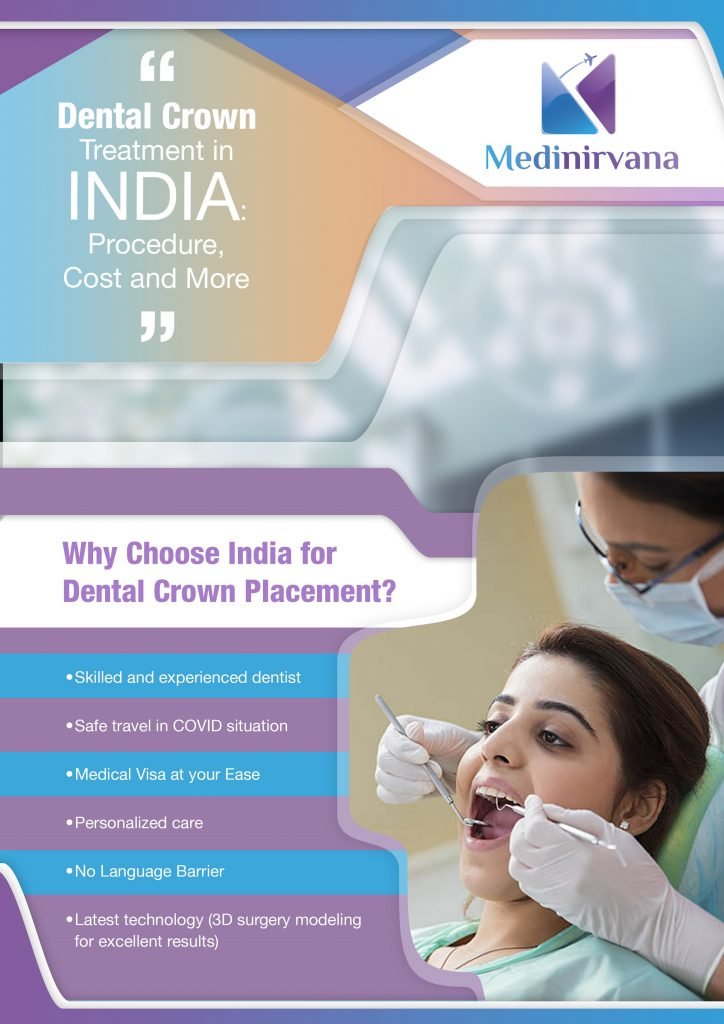 3. Why Choose India for Dental Crown Placement?
Skilled and experienced Dentist-

The dental specialists in India have a high degree of experience and expertise in all dental procedures.

Latest technology-

Many clinics have the latest state-of-art technology that can create accurate and précise dental crowns and bridges. Specialists also apply 3D surgery modeling for excellent results. Some of these technologies enable dentists to create crowns in a couple of hours only.

Medical Visa at your Ease-

The visa procedure is simple and hassle-free. Also, the government has introduced an online Visa facility for supporting medical tourism in the country.

Personalized care-

The welcoming medical team in India offers quality dental care with a warm and friendly environment to ensure your entire experience is as comfortable as possible.

No Language Barrier-

Communication is not a problem in India as the majority of medical staff is well versed with English and many premium hospitals offer translation services for ease of communication for overseas patients.
Safe travel in COVID situation-
As borders begin to reopen, Indian hospitals/clinics are offering special care for overseas patients. This includes maintaining hygiene, and social distancing during transportation, visit to the hospital, and during the entire treatment. The hospitals, equipments are properly sanitized and follow the safety and hygiene measures promoted by the government of India.
4. How to Plan for a Medical tour in India for Dental Crown Placement?
When you finalize your travel plans to India, make a list of all the things you need during your journey.
Carry all required travel documents including your passport, visa, letter from your primary care hospital/doctor, your medical report, your dental records, etc.

Confirm your appointment with the respective hospitals and discuss with their medical staff about the required duration of stay for your treatment. You can finalize your other travel plans such as airline tickets and hotel accordingly.

It is important to check on the hospital's reputation and your dentist's experience to make sure you are in good hands.
Whether you have any questions or require guidance, the hospital staff in India will support you in every way so that you have a wonderful trip.
 5. Pre and Post-Operative Care in India
India is renowned for its superior medical and dental care  service.
Pre Operative care
During your first visit, the dentist will examine your tooth and decide whether a dental crown is the most appropriate treatment for you. Once this has been decided, your doctor will give you a set of instructions to follow before and after the surgery. This includes:
Avoid smoking and alcohol consumption as it might affect your healing process and cause complications.

Avoid blood thinning medications at least 10 days before surgery.

With a temporary crown in place, you can eat and brush normally but avoid sticky, chewy, or especially hard foods.
Post Operative care
After the crown is initially installed, your gums are sensitive. Avoid food or drinks that are too cold and hot.

Use a toothbrush with soft bristles and brush gently for the first few days. You may want to switch to toothpaste meant for sensitive teeth for a few days.

Rinse your mouth after every meal and avoid chewy, sticky, and hard food items to prevent damage to the crown.

Daily oral hygiene routine will help maintain the strength and longevity of your crown.
There will be some swelling and soreness and you will be prescribed pain medications for the same. Pain should not last more than two days.
After the initial period after your procedure, you are encouraged to regular brushing; flossing and the doctor may also suggest a special brush for effective cleaning purposes.
In India, the dentist and medical staff together work hard to offer you the best treatment as well as post-procedure care.
6. What is the Cost of Dental Crown Placement in India?
The cost of the dental crown varies according to a number of factors such as type of crown, no. of implants, requirement of additional bone grafting, and several others.
The cost differs for every country. Dental treatment is very expensive in countries like the US, Germany, the UK, the UAE, the Netherlands, Spain, or Australia. Thus, a large number of patients from these countries are traveling abroad to get dental services at cheaper rates.
The cost of the treatment in the United States is around 60,000 to 2.2 lakhs rupees (800-3000$), while countries like India, Mexico, Costa Rica offer the same treatments at very affordable rates.
In India, the cost of the treatment is
50,000 rupees onwards
. The reduced prices are due to the availability of high-quality implants which are compatible with bones at cheaper rates.
Patients can save up to 60-70% of their treatment costs while achieving high quality and personalized care.
Source: https://www.medicaltourismco.com/dental-crown-cost-abroad/
https://www.treatmentabroad.com/costs/dental-treatment/crowns-8-porcelain-crowns
Take Away
If damaged or missing teeth are making you feel less confident, the dental crowns are the most effective solution for you. These crowns not just look like natural teeth, they function like one.
In India, the expert dentists will help you from pain, discomfort, or missing or broken teeth or damage crowns with high-quality care at affordable prices. Though cutting edge technology, they offer safe and effective dental implants that will restore your smile.