A heart transplant surgery is done to replace a diseased heart, which is not able to function, with a healthy donor heart. Heart transplant is usually the last line of treatment, when all other methods have failed.
Please scroll down below to read detailed information if you are looking for heart transplant surgery in India.
Table of Contents
Feel free to skip ahead if one topic catches your eye:
1. When does a person require a heart transplant surgery?
A heart transplant can be referred to as a surgical procedure in which the surgeon replaces a failing, diseased heart with a healthier donor heart. This procedure is usually reserved for patients in which all other forms of treatment have failed. Heart failure in adults can be caused by:
Heart valve disease
Coronary artery disease
A weakening of the heart muscle
Failure of a previous heart transplant
Congenital heart defect
Abnormal and dangerously-recurring heart rhythms that are uncontrollable with other treatment options
The surgeon may recommend multi organ transplants depending upon the patient's health condition.
Heart-liver transplant: This surgical procedure can be an option for patients with heart and liver complications.
Heart-kidney transplant: The surgical procedure can be an option for patients with heart and kidney complications.
Heart-lung transplant: This procedure is rarely suggested by surgeons for patients with severe heart and lung complications.
2. How to Prepare yourself for Heart Transplant in India?
One of the first steps, before you opt for a heart transplant in India, is getting the documentation complete in all aspects. It is important for you to arrange hospital authorisation letters, medical reports, passport and medical visa, proof of required funds and bank statements, your photographs, the details of your and attendant's accommodation in India, proof of relationship with the attendant (for attendant visa), etc. It is also important that you have a recommendation letter from a doctor based in your home country to visit the specific center for treatment in India.
It is worthwhile to note that the preparations for a heart transplant usually start weeks or months before a donor's heart is arranged. If the doctor in your resident country has recommended a heart transplant, you will be referred to a heart transplant center for evaluation. Today, India has emerged as one of the most popular countries for medical tourism.
Millions of patients from all parts of the world visit India every year for medical treatment. Promising quality of healthcare facilities and low treatment costs are two of the biggest factors that encourage patients to choose for their heart transplant surgery.
You should follow the undermentioned tips and precautions:
It is important that you have a clear and complete understanding of the heart transplant surgery in India and your surgeon to make an informed decision.
Before your surgery, you should quit smoking and alcohol as they may delay the recovery and healing process besides putting your overall health at risk.
It is important for you to have sound sleep and lead an active lifestyle.
You should thoroughly cross check the authenticity of the claims made by the surgeon and the before making the final decision.
It is important for you to continue taking your medications as suggested by your resident country's doctor and the surgeon in India.
In India, you will get proper care and assistance from highly experienced surgeons.
3. Getting a Donor Heart in India
Getting a transplant in India can be an easy process that is carried out in different phases. In the initial stage, the recipient of a heart transplant will be assessed on different parameters such as diabetes, lifestyle habits, presence of cancer cells (if any), etc. The patient is screened further if all organs are in healthy conditions and the recipient is free from severe infections or cancer. The name of the recipient is sent to the donor waiting list across India once the recipient is found fit.
Thereafter, the heart of the donor is matched with the recipient on different parameters such as time spent on the waiting list, blood group type, antibodies developed by the recipient, and size of the donor organ. A heart transplant surgeon will conduct the surgery in India once the heart of a donor is available for the recipient.
4. Quality of life after Heart Transplant surgery in India
After the surgery, you will stay in ICU for a few days for continuous monitoring. You will need to stay in the hospital for 1-2 weeks before getting discharged.
The expected recovery time after a heart transplant surgery is around 3-6 months, though it may vary from one patient to another. It is also dependent on other factors such as the patient's age, general and overall health, response to medications, previous medical problems, etc. Patients can expect to make a return to work 2-3 months after the transplant surgery.
The surgeon will prescribe antibiotics, anti-inflammatory drugs, and immunosuppressive medications after the transplant.
The patients are required to follow up regularly as suggested by the doctor.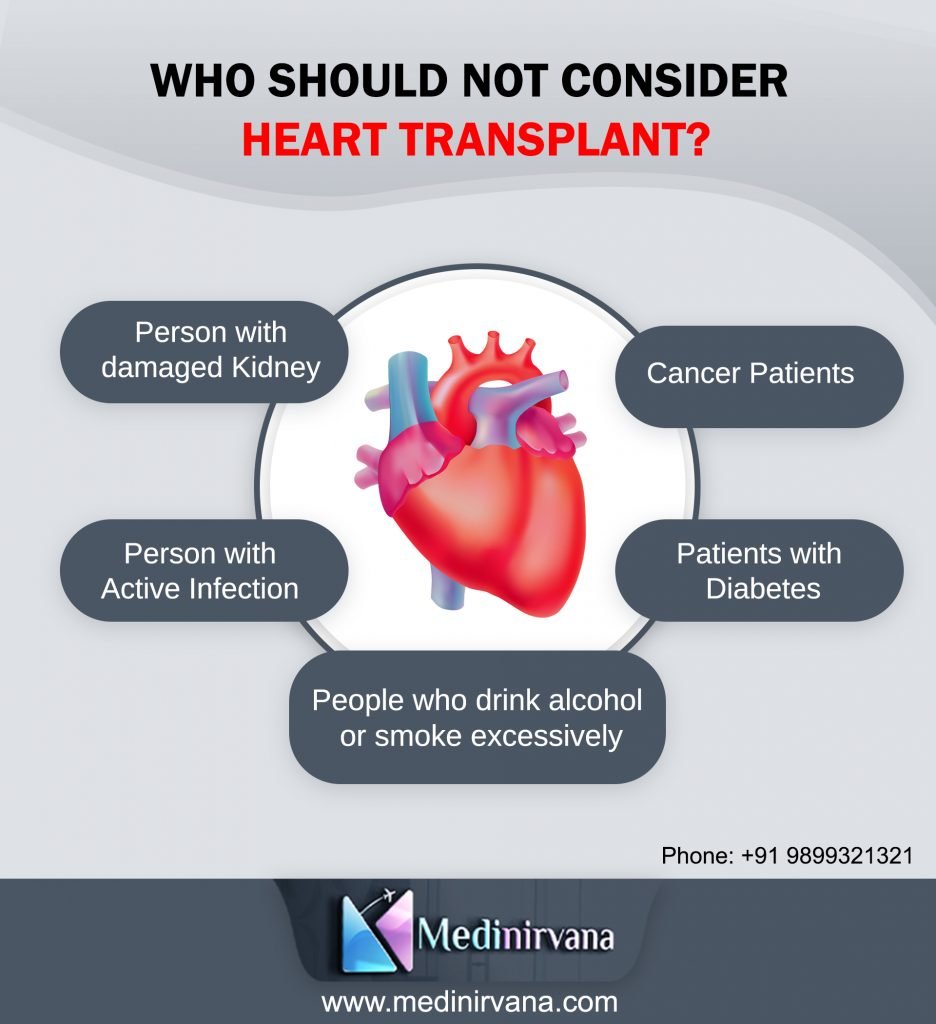 5. Cost of Heart Transplant in India
The estimated cost of a heart transplant in India is around INR 20-30 lakhs though it may vary from one clinic to another. This cost includes expenses incurred on pre-transplant evaluation and diagnostic tests, the heart transplant surgery itself, and post-transplant recovery.
It is important to note that the estimated cost of heart transplant includes organ recovery and transport charges, length of stay in the heart transplant hospital, expertise of skilled surgeons, hospital infrastructure and technology, recovery and rehabilitation, etc.
It is highly recommended that you should choose a reputed and prominent heart transplant hospital while keeping in mind important factors like:
Nearby location
Whether the hospital accepts your insurance coverage
Technological expertise and skill sets of the surgeons and medical team
The reputation and mortality rate of the hospital or clinic
Experience and success rate of the hospital with heart transplant cases
6. Why Should you Prefer India for Heart Transplantation?
Recent innovations in the segment of healthcare have led to a massive surge in the rise of medical tourism. However, there may be some hurdles while seeking medical treatments in some cases. For instance, some state-of-the-art treatments and technologies or certain specialists may not be accessible at a convenient location. Additionally, there might be instances when the patients are subjected to long waiting lists. This is where medical tourism destinations like India come into the picture.
One of the biggest advantages of choosing India as your preferred medical destination is that you can access low-cost and high-quality health and wellness services at top Indian hospitals with accredited facilities.
It is interesting to note that the cost of treatment in India is about one-tenth the cost of the equivalent treatment in western countries like the United Kingdom or USA.
For instance, the cost of heart bypass surgery is around $125,000 in the United States while it is around $8,000 in India. Secondly, the waiting time for major surgeries is about several weeks and months and even years in many countries. On the other hand, Indian hospitals have literally no waiting time for surgeries.
In addition to these advantages, patients from other countries can avail of the recently-introduced medical visa (M-visa) feature. This online feature allows patients to submit their documents and apply for a quick medical visa from the Government of India. Apart from this, patients from some countries can avail of a visa on arrival that allows them to stay in the country for a period of 30 days.
Take Away
If you have been looking for the best heart transplant surgery, you should consider India as your preferred medical destination. Skilled doctors, state-of-the-art medical facilities, low-cost treatment options, and compassionate pre- and post-surgery care are just some of the advantages that make India an ideal destination for medical tourists.
The best thing is that while many countries have cumbersome processes for granting a visa, the Indian government is constantly working towards making the visa application and approval processes more efficient and streamlined to allow more medical tourists to visit the country and get treated.
Choose India as your preferred medical tourism destination to access standardised world-class care and medical services at nominal pricing now. At Medinirvana, we will arrange everything for you including medical visa and complete documentation so that you don't have to worry more during your difficult times.