The issues regarding kidney failure have become quite prominent in recent years. According to a report from WHO, around five to ten million individuals (annually) lose their lives due to kidney diseases. However, alongside the inflation of the numbers of affected, the treatment options and success rate, too, are improving worldwide, especially in India. The sudden emergence of Nephrology in the country has put it in second place in terms of kidney transplants. 
Currently, around 7,500 kidney transplantation procedures are performed all over India, with a success rate of almost 85%-90%. Moreover, the expenditure of the treatment in India is comparatively less than other nations.
Table of Contents
Feel free to skip ahead if one topic catches your eye:
1. In what conditions do you need a Kidney Transplant?
An individual can undergo kidney transplantation surgery if his or her kidneys have been damaged substantially. Here are a few other health conditions which might prompt the patients to undertake kidney transplantation:
ESRD (end-stage renal disease)

Any form of infection (such as hepatitis, UTI, tuberculosis, etc.), which have spread throughout the body and affected the kidneys

Chronic and acute kidney failure. 

Uncontrolled diabetes, which, in turn, can increase the protein in urine and cause bleeding from the kidneys
The chronic kidney issues, like Lupus nephritis, PKD (polycystic kidney disease), Glomerulonephritis, kidney cancer, Malformations, etc.
2. How to Find a Donor for a Kidney Transplant?
Finding the right kidney donor for a patient seeking a kidney transplant can be quite complicated. In this case, the doctors generally tend to maintain a checklist of eligibility criteria. Here is everything that it might include:
Choosing someone from the family or friend circle can be ideal if everything else matches appropriately. 

The donor should be of 18-65 years of age. 

The donor does not have a history of smoking, drinking, or any other serious illness (such as cancer, kidney stones, a severe heart condition, high blood glucose level, etc.).

The blood type of the donor and patient should either match or be compatible with each other. 

The donor needs to be physically fit and have to have a natural kidney function. 

He or she (the donor) should not have a BMI of over 30. 
Besides, both the donor and the patient have to undergo the following legal formalities and physical tests. 
Passport copy (if travelling from a different country)

Attested birth certificate and family record 

Marriage certificate and the consent of the better half (if married)

Medical reports, which might include –

Blood group test 

Kidney function test 

Electrolytes 

HLA (human leukocyte antigen)

Renal ultrasound 

Urinalysis 

Abdominal ultrasound 

Doppler ultrasound (performed to check the condition of kidney vessels)

Serology (for contagious diseases, such as Hepatitis C, HIV, etc.) 

Pap smear and Mammogram (for women)

Prostate evaluation (for men)
After the procedures are done, the doctor would ask the donor to follow a proper diet enriched with fruits, lean protein, whole grains, and vegetables, etc. According to the doctors, the success of the transplantation will improve if the donor is available during the surgery.
The recovery period of the donor generally varies from one person to another. However, on average, after making the donation, the individual might require almost four to six weeks to recover. During this period, the donor must not perform any strenuous works.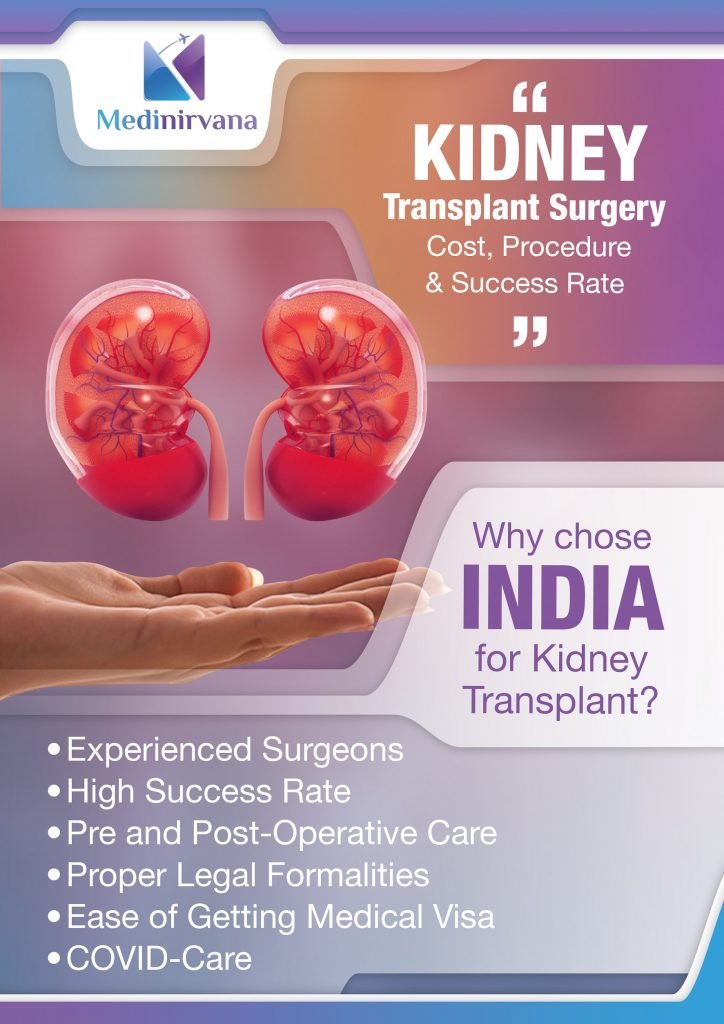 3. Why is India Popular in Kidney Transplant?
Owing to the recent medical evolution in the Indian therapeutic scenario, the Nephrology department of the country has improved to a massive extent. The following are a few reasons which are prompting patients from all around the world to choose India for kidney transplantation.
Experienced Surgeons:

The department of Nephrology in India has flourished primarily due to the unparalleled experience and competence of the surgeons. Besides performing the surgery successfully, they can also provide several suggestions, which may prove to be beneficial for the patient. 

High Success Rate:

As per reports, India currently has an overall success rate in the arena of kidney transplantation of around 90%. It, in turn, reflects the aptitude and proficiency of the nephrologists of the country. 

Pre and Post-Operative Care:

Besides performing the surgery ingeniously, the clinics of India also provide pre and post-operative care to its patients. Moreover, the overall hospitality of the clinic is pretty top-notch as well. 

Proper Legal Requirements:

Like any other organ transplantations, the Indian government has also laid some kidney transplants rules. So, in case if anything goes wrong, the family of the patients can apply them for their purpose. 

 

Ease of Getting Medical Visa: The procedure of getting a medical visa for India does not comprise of any lengthy documentation at all. Thus, it will not take much time to complete it all.
COVID-Care:
Due to the current COVID-19 circumstance, the hospitals in India are following several stringent rules to help its patients avoid the disease. So, there is no need to worry about it at all. 
4. How should you prepare yourself for a kidney transplant in India?
Kidney transplantation is a minutely-complicated procedure. Hence, to undergo the surgery safely, you may need to follow some crucial steps. The following are a few of them.
Diet, Exercise, and Healthy Habits 
Stop the habits of smoking, drinking, and the usage of tobacco. 
Consume a healthy vitamin and mineral-rich diet.
Maintain your weight by performing some mild to moderate exercises (as per the doctor's suggestion).
Take proper medications (prescribed by the physician) routinely.
Drug abuse is strictly prohibited, as well.
Tests and Evaluations 
Tests for detecting hepatitis and HIV 
Lungs and heart evaluation 
Different blood tests [PRA (Percent Reactive Antibody), ABO compatibility, total blood count, immune system functions]
Upper and lower gastrointestinal evaluation 
If you are considering undertaking the kidney transplantation procedure in India, then we can help you to get the best treatment in the country. 
We will provide you with each crucial instruction, which can help you get well as soon as possible. 
Besides, we will also prepare your visa and travel documents. So, if you do have us by your side, then you would not have to worry about anything else at all.
5. Kidney Transplant cost in India
The expense of kidney transplant in India can be affected due to a few reasons. Some of them are as follows:
Health Issues:

If the patient is suffering from any particular health issue, then the doctors will have to address them through medication. It might cause an increase in the overall expenditure. 

Donors:

Sometimes, if the kidney is being donated by someone else (aside from the family members), then they might ask for more charges than usual.

Usage of Technology:

If a clinic is employing various advanced technology, then it might charge more than other options. 

Type of Surgical Procedure:

There are several types of kidney transplants available in India. So, sometimes, the cost of the whole procedure might depend upon it as well. 
The average kidney transplant expenditure in India usually revolves around
5,00,000 INR to 20,00,000 INR.
While in the USA, the cost goes up to around 2,30,00,000 INR. Conversely, the price of the same in the UK is almost 16,00,000 INR. So, comparatively, the expense of the treatment procedure is lesser than the others.  
6. Recovery after Kidney Transplant
In essence, kidney transplant is, indeed, a major surgical procedure. Hence, the patient has to follow some precautionary advice to improve the speed of recovery. Here are some crucial ones among them.
The individual has to stay in the hospital for at least six to eight days after the surgery. If the physician considers so, then he or she might ask the patient to stay for a few days more under observation. He or she might need temporary dialysis during this period as well. 

The patient needs to go for frequent checkups to have an idea about his or her current health condition.

He or she will have to take some specific medications, such as immunosuppressants, to prevent their immune system from attacking the new organ.

A healthy and well-hydrated diet is recommended for the patient. 
After the surgery, you will be prohibited from lifting an object, which weighs more than ten pounds. You may have to wait for around eight to ten weeks before you can perform the daily activities.
Take Away 
Due to its complexity, many patients tend to dread the procedure of kidney transplants. However, in all honesty, it is not that frightening at all. If you do follow the instruction of your doctor carefully, then the procedure will be completed without any obstruction. Moreover, owing to the Indian clinic's aftercare facilities, you will get well soon pretty quickly as well. Thus, in truth, there is no need to worry about it!