Ankle Arthroscopy is a medical procedure for performing ankle fusion in a minimally invasive way. This diagnostic and therapeutic technique manage ankle joint disorders by utilising the technology of magnifying lenses, fiberoptics, and digital video monitors.
Patients across the world visit medical tourism destinations every year to get treated through Ankle Arthroscopy. A big majority of these patients choose India because of its cost-effective quality of care and technological advancements.
Table of Contents

Feel free to skip ahead if one topic catches your eye:

1. What is Ankle Arthroscopy Surgery?
2. How can you prepare for Ankle Arthroscopy Surgery in India?
3. What to expect While Considering Ankle Arthroscopy Surgery in India?
4. Why is India the preferred destination for Ankle Arthroscopy?
5. What is the cost of Ankle Arthroscopy in India?



What is Ankle Arthroscopy Surgery?
Ankle Arthroscopy Surgery is a relatively safe procedure with low complication rates to treat some common complications of the ankle. Your surgeon may recommend this outpatient surgery to diagnose and treat ankle joint disorders to help you get on with your life and get back on your feet.
Ankle Arthroscopy Surgery may be recommended by your surgeon for treating the following health conditions:
Osteochondral defect of the talus:

Ankle Arthroscopy Surgery may be recommended by your surgeon to treat Osteochondral defect of the talus that is also referred to as osteochondral fractures, OCDs and osteochondritis dissecans. This could include repetitive ankle injuries and acute ankle sprains caused by chronic instability. It is worthwhile to note that the atraumatic causes of OCDs can possibly include genetic predisposition, metabolic abnormalities, vascular insults and degeneration. It can be linked to mechanical symptoms of popping, catching, clicking, and reduced range of motion. 

Synovitis

: Synovitis can be classified as the soft tissue lining's inflammation that manifests as swelling, loss of motion, or pain. This health condition can be the result of inflammatory arthritis, acute trauma, degenerative joint disease and overuse.

Arthrofibrosis:

In some cases, patients may get predisposed to arthrofibrosis or the development of scar tissue. The surgeon may recommend Ankle arthroscopy to identify and remove the scar tissue.

Loose Bodies:

Scar tissue and/or articular cartilage following ankle trauma can take the form of free joint floating or a "loose body". It can also help in the setting of a health condition known as synovial chondromatosis where the joint's lining becomes redundant for unexplained reasons. Loose bodies can become a cause of concern leading to problems such as frank locking, clicking, and catching that may in turn lead to loss of motion, swelling, or pain. 

Posterior Ankle Impingement:

This health condition occurs when the soft tissue and bone of the hindfoot gets inflamed because of repetitive stress. It may result in swelling, pain in the ankle joint, and inconsistent limited ankle motion, especially plantarflexion. The health condition is commonly seen in ballet dancers and athletes. Posterior Ankle Impingement, like anterior ankle impingement, is typically linked to bone issues in the ankle's posterior part. The surgeon may recommend treatment involving arthroscopic incisions in the ankle's back for assessing and treating and painful areas. Inflamed soft tissue, os trigonum, or bone spurs can be removed arthroscopically with this treatment procedure.

Unexplained Ankle Symptoms:

Patients may occasionally develop symptoms like locking, catching, pain, swelling, grinding, or popping that may not be explainable with diagnostic techniques.



How can you prepare for Ankle Arthroscopy Surgery in India?
It is highly recommended that you must prepare yourself for Ankle Arthroscopy by saying goodbye to a sedentary lifestyle, smoking, alcohol, etc. You should also stop the use of blood-thinning medications and emphasise on losing excess weight before surgery through a healthy diet and exercise plan with the help of a nutritionist.
Ankle Arthroscopy Surgery is a complicated procedure and is best performed by a reputed surgeon with specialisation and rich experience in the medical procedure. However, it may prove to be a costly treatment and therefore you should always explore a prominent medical tourism destination like India where you can get the best treatment at an affordable cost. Interestingly, Indian hospitals have a success rate when it comes to Ankle Arthroscopy Surgeries and yet the cost is one-fifth or one-tenth of the cost in developed countries like the United States, Canada, Germany, and the United Kingdom.



What to expect while considering Ankle Arthroscopy Surgery in India?
Generally, Ankle Arthroscopy is performed as an outpatient procedure with or without an epidural anesthetic with sedation or a regional pain block under general anesthesia. The surgeon may apply a tourniquet after establishing adequate anesthesia and then proceed to prepping and draping the leg in a sterile fashion. At times, mechanical distraction devices are used by the surgeons to enlarge the ankle's potential space on a temporary basis. 
The surgeon may then proceed to make at least two incisions of 0.5 mm in the ankle after the ankle and foot are positioned appropriately. These incisions then become the sites of entry into the portals, or the ankle, for the arthroscopic instruments and camera. It is worthwhile to note that the portals are strategically placed for avoiding nerves and vessels. The surgeon may then make the incisions in the back or front of the ankle, or a combination of both. 
To further open the joint, the surgeon may use sterile fluid to flow through the ankle. For performing the surgery, the instruments and camera can then be exchanged between the portals. Once these procedures have been completed, the surgeon would then place small sutures in the skin for closing the portals and follow it with a sterile compressive dressing.
The patient is then brought back by the support staff to the recovery room. He or she may be discharged on the same day with specific dressing care and weight-bearing instructions.
The surgeon may perform certain tests depending on your health, age and specific procedures. He or she may also ask you about your medications, allergies (if any) and medical history. The surgeon and the support staff will take care of everything related to your treatment and things associated with it so that you always have complete peace of mind and stay fresh & rejuvenated. They will also guide you with physical therapy and rehabilitation to help strengthen your muscles and improve the function of your joints. Slings or clutches may be required by you for protection and comfort during the healing process.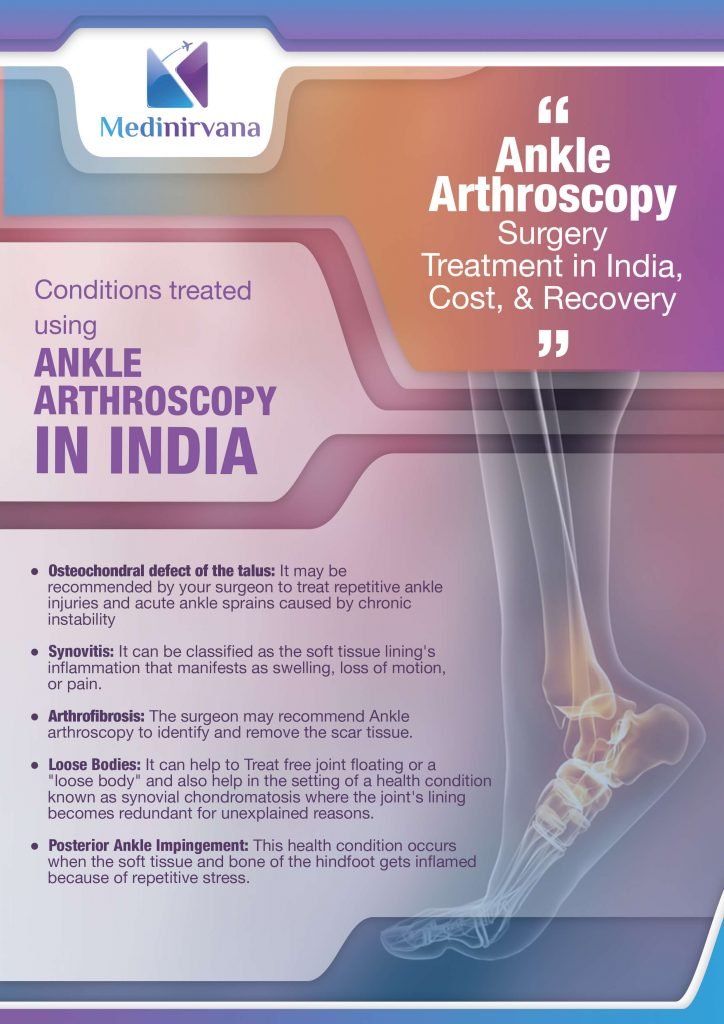 Why is India the preferred destination for Ankle Arthroscopy?
Home to some of the world's finest surgeons and nurses, India is visited by more than 495,970 medical tourists every year and the numbers are growing with every passing day. 

One of the biggest reasons why India should be your preferred medical tourism destination is because you can always expect the best of hospitality and infrastructure. 

Furthermore, there are no language barriers as the country is home to the world's largest English-speaking population. 

Also

, Indian hospitals undergo a sophisticated licensing process that means they adhere to some of the finest standards in the terms of safety, technology, hygiene, pre- and post-operative care and modern technological advances in instrumentation, imaging, and biological reconstructive materials. 

If this is not all, the Indian government recently introduced the concept of e-medical visas that allow you to apply and receive medical visas for yourself and the attendant with just a few clicks.
If you are planning to visit India for Ankle Arthroscopy Surgery, it is important that you have the following documents ready with you:
○ Your previous X-rays and reports
○ Applicant Photo.
○ Scanned copies of the passport's personal details pages.
○ Medical visa copies.
○ Proof of residential address and of required funds.
○ Recommendation from the home country doctor to visit a particular specialised medical centre for treatment.
○ Passport copy of the attendant and proof of relationship of the attendant with the patient



What is the cost of Ankle Arthroscopy in India?
The Ankle Arthroscopy in India may cost you approximately 8-20k INR, though this cost may differ from one hospital to another depending on the success rate of the doctor and the hospital, qualifications and expertise of the doctor, medical conditions of the patient, type of surgery, accommodation, etc. 
The surgery takes between 30-90 minutes and most patients return within 3–5 days. The approximate success rate is 45 percent for that treated non-surgically and 86 percent for those who had surgery.
Takeaway
Ankle arthroscopy can be a complicated form of treatment and therefore it is highly recommended that you get it done from the best in the industry. You can get the right treatment in India for all your ankle issues and the best part is that you will not end up burning a big hole in your pocket. Moreover, you can easily get medical visas with just a few clicks and after submitting your medical reports. Since India is a land of English-speaking population, you'll never face any language barriers.
Known for its hospitality, the country will be your perfect medical tourism destination to get Ankle arthroscopy performed at a nominal cost without you ever compromising on the quality of pre- and post-operative care. The list of advantages doesn't end here. You can even visit beautiful destinations in India once you have received the treatment to give your body a much-required healing time that is spent well with mother nature.