Today, pregnancy is possible for millions of women worldwide because of infertility treatment advancements, especially In vitro fertilization, also known as IVF. During this procedure, fertility drugs are used to stimulate the development of multiple eggs. The eggs are then retrieved using a small needle from the ovaries and then fertilized in a specialized laboratory with sperm. Once this has been completed, the embryos grow for about three to five days before one or more eggs are placed into the uterus.
Table of Contents
Feel free to skip ahead if one topic catches your eye:
1. When should you consider IVF Treatment?
In vitro fertilization (IVF) is nothing short of a miracle fertility treatment involving a complex series of procedures used to prevent genetic problems or assist women with the conception of a child.
It is primarily offered as the first line of fertility treatment for women over 40 years who are having fertility issues. IVF may also be suggested if the couple has certain health conditions.
For instance, your doctor may recommend IVF if you or your partner has:
Ovulation disorders: Fewer eggs are available for fertilization if ovulation is absent or infrequent.
Fallopian tube damage or blockage: Any damage or backup in the fallopian tube can make it difficult for eggs to be fertilized. It may also partially or entirely inhibit the journey of an embryo to the uterus.
Endometriosis: This health condition occurs when the uterine tissue starts growing outside of the uterus. It affects the function of the uterus, fallopian tubes, and ovaries.
Uterine fibroids: Uterine fibroids can be defined as benign tumours in the uterus wall that can interfere with smooth implantation of the fertilised egg.
Previous tubal sterilization or removal: IVF may be a good choice for you in place of tubal ligation reversal if you have a tubal ligation, which is a form of sterilisation in which the fallopian tubes are either blocked or cut for permanently preventing conceiving, and now wants to conceive.
Impaired sperm production or function: Below-average concentration of sperm, abnormalities in sperm size and shape, and weak movement of sperm may make it tedious for sperm to fertilize an egg effectively. The man may consult a specialist if semen abnormalities are found to find out if there are underlying health issues or correctable problems.
Unexplained infertility: Unexplained infertility can be defined as an instance wherein there is no explainable cause of infertility despite a comprehensive evaluation for common causes.
A genetic disorder: If either of the partners is at any risk of passing on a specific genetic disorder to the unborn child, they may be good candidates for preimplantation genetic testing that is a procedure that involves In vitro fertilization.
Fertility preservation for cancer or other health conditions: IVF may be the right choice if you are about to start radiation, chemotherapy, or any other cancer treatment that may negatively impact your fertility. In such instances, women may have their eggs harvested from their ovaries that can then be frozen in an unfertilized state for use at a later point in time. Alternatively, the eggs may be fertilized and frozen as embryos for future use.
2. 5 easy ways to have a successful IVF Treatment in India
Documentation: The first step to get IVF Treatment in India starts by arranging the necessary documents. It is suggested that you should arrange for copies of your passport and medical visa, the passport and relationship proof of the attendant, details of the proposed accommodation in India, medical reports and history, proof of required funds, a recommendation letter from your doctor in the resident country, hospital authorisation letter, etc.
Active Lifestyle: It is highly recommended that you should create and maintain an active lifestyle. For this, you need to make sure that you have a sound sleep and take your medications on time. Moreover, you should consume a healthy and balanced diet every day and stay away from alcohol and smoking. The use of blood thinners, dietary supplements, and over-the-counter medications (unless approved by your doctor) should be stopped, if advised by the doctor.
Stay informed: You need to know everything about the IVF procedure and ways to improve your chances of getting pregnant. You should also be aware of what treatment options are available for you, what is the success rate of the IVF procedure, and what if health insurance covers all diagnostic tests and medical procedures.
Positive attitude: IVF may be a demanding process for some, and you must have realistic expectations and a positive attitude. Moreover, you should have a word with your reproductive endocrinologist or fertility doctor in India at regular intervals so that you have a balanced opinion and can make an informed decision. Remember, your decision and willingness to invest your money and time to have a baby would be your biggest reward, and you have to work towards it consistently.
Timely medications: There is no denying that IVF can be a blessing for you, but you have to observe a high sense of care and diligence with your existing or suggested medications. It is recommended that you not self-prescribe medications to yourself or take dosages in contravention to medical advice.
In India, you will get proper care and assistance from highly experienced surgeons with Medinirvana.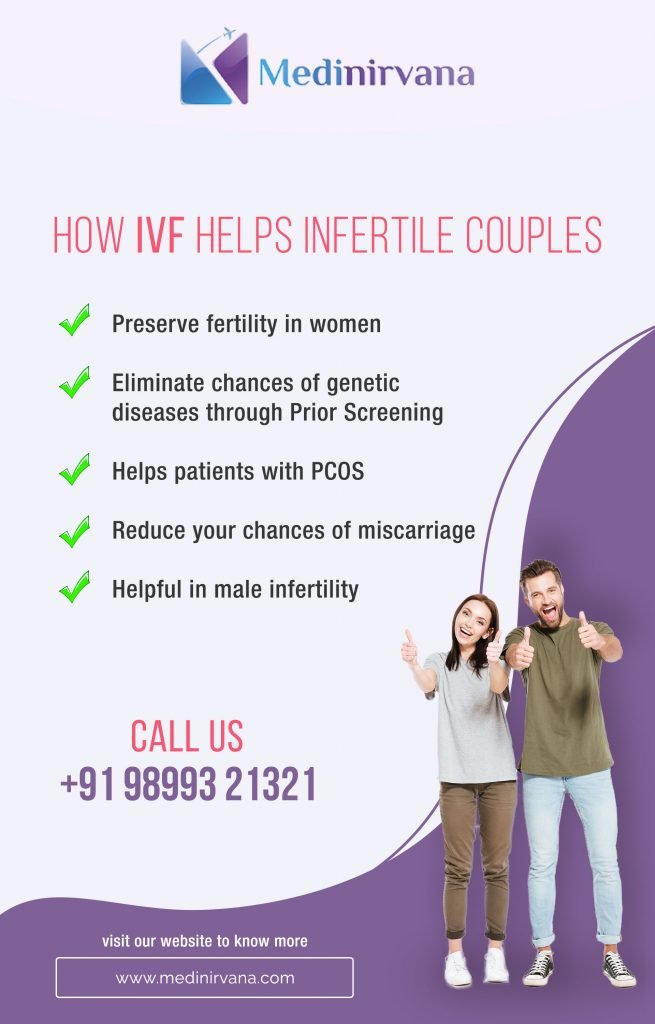 3. How is IVF Procedure done?
The doctor may recommend different screenings before starting an IVF cycle, including:
Ovarian reserve testing: The doctor may evaluate the concentration of estradiol (estrogen), follicle-stimulating hormone (FSH), and anti-mullerian hormone in the woman's blood during the early days of the menstrual cycle.
Semen analysis: The doctor may recommend a semen analysis before starting an IVF treatment cycle.
Infectious disease screening: The couple will be screened for contagious diseases such as HIV/AIDS.
Practice (mock) embryo transfer: The doctor may recommend a mock embryo transfer for ascertaining the uterine cavity's depth and the best technique for placing the embryos into the uterus.
Uterine exam: The uterus's inside lining may be examined by the doctor before the IVF treatment can be started.
IVF, a form of assisted reproductive technology (ART). The eggs are retrieved under intravenous sedation in a surgical suite, and they are then placed in a particular media. Once this has been completed, they are cultured until insemination in an incubator. Then, quality embryos are selected based on their appearance and development. On day 3, the embryos are transferred at the cleavage stage or on day five at the blastocyst stage.
The average number of IVF cycles required is approximately 2 per patient, and one IVF cycle takes around 3-5 weeks.
4. IVF Success rates in India
The success rate of IVF procedures in India is about 30 to 45 percent for every embryo transfer. This success rate may vary from one fertility hospital to another. It depends on fertility treatments, the hospital's success rate, the skills, and experience of fertility specialists, etc.
5. Cost of IVF treatment in India
The estimated cost of IVF treatment per cycle in India is about INR 1-2 lakhs though it may vary. The final cost of IVF treatment in India depends on a number of factors, including but not limited to the type of procedure performed, no. of IVF cycles, your general and overall health, your age and medical history, the kind of medications, the cost of your accommodation, the expertise of the fertility specialist, the success rate of the fertility hospital or clinic, etc.
To explore the best IVF treatment in India, you can contact MediNirvana, the most trusted and prominent name in the world of health care and medical assistance.
6. Why Should you Prefer India for IVF Treatment?
The work and ethical standards of accredited fertility hospitals in India are world-class and known to exceed all expectations. Indian hospitals have some of the world's best doctors, surgeons, lab technicians, nurses, etc. Secondly,
the treatment cost of IVF in India is almost negligible when you compare it with IVF treatment costs in western or developed countries such as the United States, Canada, Germany, UAE, and the United Kingdom.
Thirdly, all medical professionals in India are well-versed in English, which means that you never have to face any language barrier. Also, Indian hospitals and clinics are powered by the latest equipment and state-of-the-art technology & infrastructure.
In addition to these advantages, India is a fantastic destination if you look for therapies like holistic healing centers.
Take Away
If you are looking for the best IVF treatment, you must choose India. One of the most significant advantages of choosing India as your preferred medical destination is that the fertility hospitals in India are board-certified and internationally-accredited. Moreover, all healthcare professionals and hospitals are regularly audited, leaving no room for malpractices or negligence.
Post the COVID-19 pandemic, Indian hospitals and clinics have redefined their healthcare and hygiene policies and lead the world of global healthcare through the highest standards of social distancing, courteous services, and hygiene.