Globally, Cervical Cancer is the fourth most common cancer among women. However, it is also the most successfully treatable form of cancer when detected and treated early. 
Table of Contents
Feel free to skip ahead if one topic catches your eye: 
Why prefer India for Cervical Cancer Treatment?
Indian cervical cancer treatment facilities are supported by highly experienced and skilled oncologists, urologists, and support staff. Let us have a close look at some of the benefits you can explore by choosing India's healthcare services.
The corporate hospital standards of the country are world-class and compete with the best across the globe. Furthermore, the country is home to a well-trained and resourceful pool of manpower for physicians, doctors, paramedical staff and nurses.

Indian doctors and medical teams are rated highly around the world. Furthermore, the cost of cervical cancer treatment in India is meager as compared to other countries. It is only about 10-20 percent of what you will be charged in a country like the United States of America or the United Kingdom. The best thing is that you can avail of these affordable health care solutions without compromising on the quality of the final healthcare deliverables.

You may not even need a translator as doctors, nurses and other medical staff are well-versed in global languages such as English. Just in case, if the support is needed, trained interpreters and linguistic experts are there to support you.

Hospitals and medical facilities in the country are empowered by state-of-the-art technology and the latest medical equipment. A majority of cervical cancer treatment centers in India have international patient wards that are specially formed to cater to the travel and medical visa requirements of international patients. Moreover, you can even get assistance related to dietary requirements from these dedicated patient desks.

India is also a highly-acclaimed medical tourism destination if you're looking for holistic healing centers for alternative procedures.

A vast majority of cervical cancer treatment centers in India do have high-end technology. The accreditation and education system of doctors and hospitals in India is well regulated and extremely strict. All health care providers and clinics are carefully and comprehensively assessed before being licensed and monitored regularly, leaving no room for any negligence.

The best cervical cancer hospitals in India are accredited by national and international regulatory bodies such as the National Accreditation Board for Hospitals and Healthcare Providers (NABH) and Joint Commission International (JCI). These hospitals and medical facilities provide world-class facilities at the most affordable pricing when compared to other medical tourism destinations in the world.

One of the most significant advantages of choosing India as your preferred country for receiving medical treatment is the availability of temporary medical visas. You can avail a medical visa in the quickest possible time. The waiting time for the majority of life-saving and life-changing medical procedures is almost minimal. On top of this, patients with life-endangering conditions receive top priority for the allotment of medical visas.

Post the pandemic, Indian hospitals and clinics have redefined healthcare and follow the highest standards of hygiene, social distancing, and courteous services. In other words, you are as safe at an Indian hospital as you are at your own beautiful home.

There have been several instances in the past where the Indian government, the external affairs ministry, and state and local government authorities have gone beyond the call of duty to help patients and their families receive timely medical assistance.
How to Plan Cervical Cancer Treatment in India?
India is home to some of the world's most reputed and successful cervical cancer treatment centers and doctors. You can get comprehensive assistance with regards to medical visas and explore the best of hospitality and infrastructure. 
The fact that cervical cancer treatment options in India are reliable and affordable at the same time, indeed makes the country the right choice for cervical cancer treatment. The best thing is that you can choose from a wide range of globally-renowned and best hospitals for cervical cancer treatment in India.
It is important to note that you would have to be ready with some documents before you visit the country. The list includes:
Pap smear and screening test reports

Applicant photo and scanned copies of the passport

Passport & VISA copies and similar details of the attendant

Proof of financial capability and residential address

Recommendation from the doctor of the home country
India continues to be one of the leading and most popular medical treatment destinations for countless reasons. You can always expect the finest ancillary and post-operative care solutions when you choose India.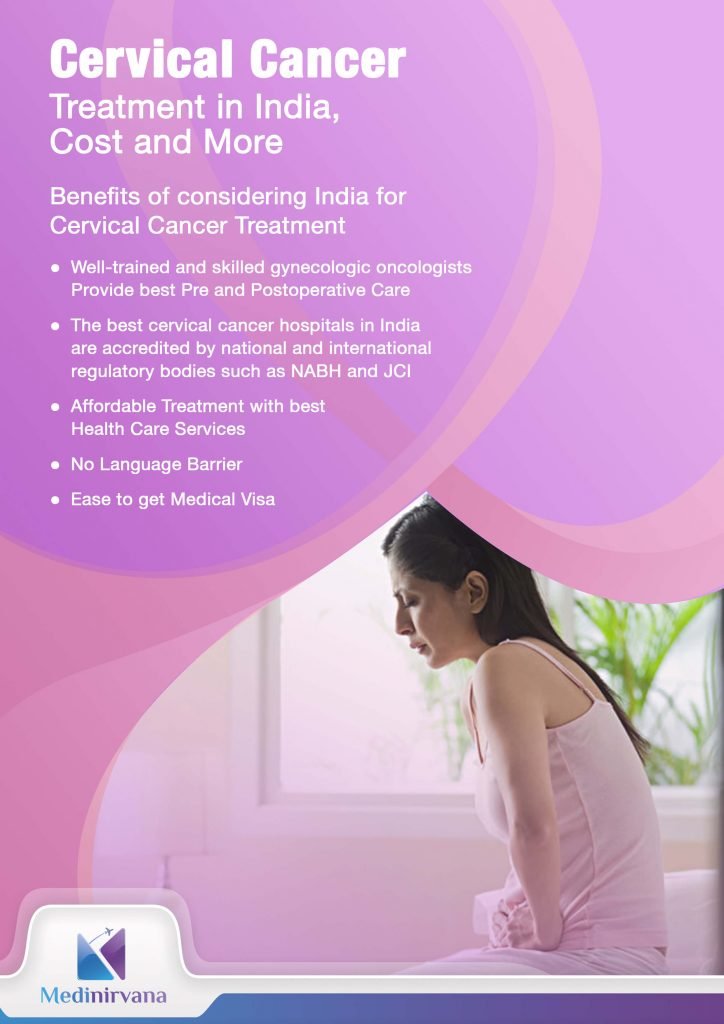 What can you expect while considering Cervical cancer in India?
Preparing yourself for the surgery
The doctor may perform specific tests to check your general fitness and ascertain how you are likely to respond to cervical cancer treatment. You may be asked for blood tests to find out the health of your liver and kidneys. An ECG may be performed to check whether your heart is healthy, and a chest x-ray may be performed to check the health and responsiveness of your lungs.
The doctor will also have a word with you to tell you about the complete medical procedure and the advantages of having cervical cancer surgery. You will also get a complete idea about the possible risks (if any) and what to expect afterward.
Once the surgery has been performed, the doctor may recommend some tests to ensure that your general health (pulse, blood pressure, breathing, and body temperature) is standard. The medical staff may help you with painkillers and eating after a few hours after the cervical cancer surgery.
Modern radiation treatment of cervical cancer
Recent advances in treatment options and technology have allowed doctors to precisely deliver the radiation dose directly to the cervix. A series of imaging techniques are used by doctors today for visualizing the cervix and the surrounding tissue in a 3D format. 
State-of-the-art brachytherapy devices help in reducing the radiation dose that will be delivered near the bladder and the rectum. This means that there is no damage to the surrounding joint tissue. The best part is that you can explore these recent advances in treatment options and technology by choosing a reputed cervical cancer treatment center in India at an affordable cost, and affordable pricing does not translate to a lower quality of care. Indian hospitals and medical staff are known to be the best in the medical and healthcare industry, and you can always count on them as far as your cervical cancer treatment is concerned.
Success Rate
Cervical cancer can be easily treated if diagnosed and treated at an early stage. Regular Pap smears and pelvic exams are highly recommended. The survival rate is close to 100 percent if the health condition is diagnosed and treated early. 
Recovery Data
More than 90 percent of women with stage 0 , survive for at least five years after being diagnosed. Stage I cervical cancer patients typically have a 5-year survival rate of 80-93 percent, and the 5-year survival rate is 58-63 for women with stage II cervical cancer. Conversely, women with stage III cervical cancer have a survival rate of 32-35 percent, and 16 percent or fewer women who are diagnosed with stage IV cervical cancer survive five years.
What is the cost of Cervical Cancer Treatment in India?
The estimated cost of cervical cancer treatment in India is approximately Rs. 2,50,000-4,00,000 though the cost of cervical cancer treatment in India may differ from one medical facility to another. It may also be dependent on other factors, including but not limited to your health condition, the expertise of the doctors, reputation and success rate of the cervical cancer treatment center in India, etc. Other contributing factors may include the form of therapy, the overall health of the patient, previous medical history, and the cost of accommodation, food, and local travel.
One of the best things about cervical cancer treatment in India is that you can always be assured of the best healthcare facilities with a personal touch. Known to respect and treat its guests well, India is the medical tourism destination that you have always been looking for.
Take Away
India is the world's leading medical tourism destination for obvious reasons. The country is known for its quality medical treatment and is the most preferred choice for millions of patients from all parts of the world who are looking for cost-effective medical treatment. Whether it is scheduling appointments or arranging for medical visas or booking accommodation, or seeking post-surgery care, you can trust the cervical cancer treatment centers in India for managing everything.
Cervical cancer surgery is a complicated medical procedure, and you should only trust a successful and reputed hospital and doctor without having a hole in your pocket. Get access to the best medical care and pre- and post-surgery assistance by selecting India as your preferred country for cervical cancer treatment.