One in every nine men is diagnosed with prostate cancer during their lifetime. 60% of prostate cancer diagnosis is found in men above 65. Along with the U.S and Finland, India has secured its position in the top countries for prostate cancer treatment. The skilled and experienced doctors and the latest medical infrastructure makes this country a viable option for medical tourists who want a prompt cure that's economical.
For further details on prostate cancer treatment in India, scroll down for all the necessary insights,  from costs to the reason India is an ideal choice.
Table of Contents
How to Prepare for Prostate Cancer Treatment in India?
Prostate cancer is a curable type, which, if diagnosed early, can send a patient into remission quickly. With the higher chances of complete cure and survival, preparing for the treatment is extremely important.
In India, there are a few essential formalities that need to be done and a few other pre-operative steps that the patient needs to undergo. Doctors can suggest a wide range of treatment options when you consult them, but it depends on the patient's age and the stage of cancer they are battling.
Here are a few things to keep in mind before proceeding with the treatment.
Make a checklist of the documents needed
Deciding that you want to proceed with the prostate cancer treatment in India and doing it is a lot different. The process is not that simple. There is a range of documents that you need to sort out, including the following:
Hospital recommendation letter

Passport Personal details (scanned copy)

Medical visa 

Photograph of the patient

Prompt proof of the residential address of the patient

Doctor recommendation letter for further treatment

Insurance details (if any)

Passport details of the attendant along with residential address proof
Prepare your body and mind for the treatment
Cancer, be it of any type, is not an easy one to overcome. The process is taxing, both physically and mentally. So, preparing yourself for the treatment is essential. Here are a few factors you need to prioritize.
Prepare your mind for the treatment, especially to be ready to hear the best and the worst outcomes and situations in a foreign country

Start eating healthy and maintain a physically active lifestyle for a faster recovery after the treatment

Be optimistic about the situation and brave through the obstacles that come your way

Be consistent with the medications and the dosage as prescribed by the doctor
Be Inquisitive
Battling cancer is never easy, especially if you don't know what the future holds. If you are not medically sound about such situations, it is always better to consult a doctor before deciding the move to India for the treatment.
Share every last detail about your lifestyle and health with your doctor. Having a sound knowledge about your medical history helps the doctor decide a more effective mode of treatment. Additionally, you must clarify your doubts from the doctor. 
Ask them questions about the treatment, the care, and the kind of lifestyle you need to lead once you return home from India. Doctors in India are incredibly suggestive and will walk you through everything in detail, so don't hesitate to ask.
What Can You Expect While Considering Prostate Cancer in India?
Aside from the ease of communication with the doctor, several other factors make India a promising country for your prostate cancer treatment. But what can you expect there in terms of pre-surgical and post-surgical facilities?
Pre-surgical care
During the consultation with a specialist doctor in India about the commencement of the procedure, there are a few things that take course. The doctor will prescribe a few tests before proceeding with the treatment. Some of them include:
Prostate-specific antigen (PSA) analysis

PET-CT Scan

MRI

Biopsy

Transrectal Ultrasound

Blood tests (more, if required)
Post-surgical care
Once prostate cancer removal surgery is done successfully, post-operative care is equally important. It involves several steps.
Allied medications for faster recovery and pain relief

Constant round the clock hospital care 

Strict and doctor-prescribed diet

Follow-up routine check-ups (as mentioned)

Proper care for the incision to prevent infections and faster healing

Doctor advice for day-to-day activities, including heavy-lifting, driving, etc.

Necessary medication or laxatives for regular and easy bowel movement
Recovery timeline
Following the prostate cancer surgery, the patient has to stay with a catheter inserted through their penis into the bladder for about a day. If the recovery is consistent with no side effects or complications like spiking fever or infection, the patient is discharged 2 days after the surgery. The recovery following that period takes up to 2 weeks to a month, depending on how severe the case was.
Factors affecting the recovery
Age – younger individuals have a faster recovery compared to older adults

Incision recovery time (in case of surgeries)

Spread of the cancer (metastasis)

General health (comorbidities)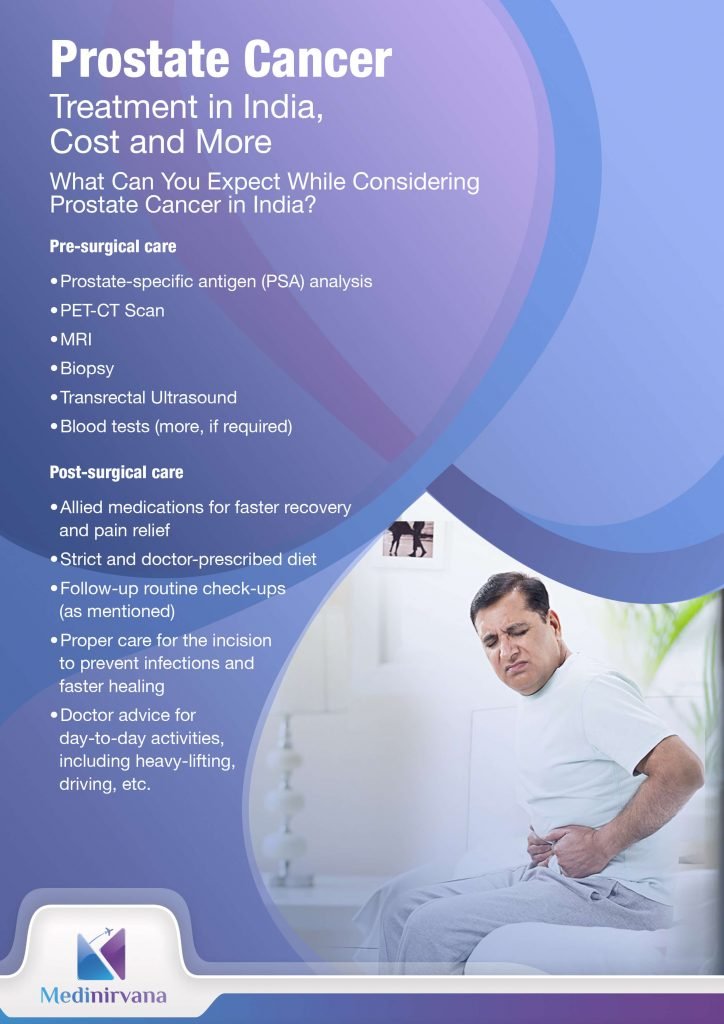 What Are the Alternatives of Prostate Cancer Treatment?
Since prostate cancer has a higher recovery rate on early diagnosis, many men prefer not to undergo surgery straight away. Aside from the straight surgery method to cut out the cancerous cells, there are a few alternatives to the process.
These include:
Brachytherapy- It is a popular radiation therapy used for the treatment of prostate cancer in men. It is a non-surgical method that involves the placement of radioactive material inside a patient's body. 
The reason behind the growing popularity of the method is the accuracy of the radiation delivery to the cancer site. It helps kill the cancer cells effectively without causing hard to the nearby healthy cells in the body.
Hormone Therapy- Another popular non-surgical treatment option for prostate cancer is hormone therapy. It is also medically termed as androgen suppression therapy as it reduces the production of the male hormones in the body. Doing so prevents fuelling the growth and proliferation of prostate cancer cells in the body. 
External beam radiotherapy- This procedure is one of the most popular modes of prostate cancer treatments. It uses high energy beams like protons and X-rays to perish the cancer cells and prevent further spread or growth.
It uses a linear accelerator machine projecting high-energy beams aiming directly at the patient's prostate gland for the localized killing of the cancer cells.
Why Choose India for Prostate Cancer Treatment?
If you are wondering why India is a leading name in this treatment field, here's why.
Skilled professionals- India is home to one of the best urologists, oncologists, and radiation oncologists. It assures accuracy in the treatment with proven success rates. If you are a medical tourist who has high hopes of recovery after the diagnosis, the Indian doctors are experienced enough to provide you with that assurance.
Leading Infrastructure- Medical sciences in India is evolving every single day. High-end equipment and radiation infrastructure are available in some of the leading hospitals around India. This makes the treatment a lot more effective and successful.
Ease in Medical Visa- With the seriousness of the condition, attaining a medical visa is prompt and is often done with a complete documentation process. 
Enhanced Safety during Covid-19- While the world is battling a pandemic and availing prostate cancer treatment might seem unsafe, Indian medical organizations are working day in and out to ensure maximum safety for the patients. Timely sanitization and tests are conducted frequently to keep everyone safe.
Privacy- Indian hospitals and doctors assure complete safety of their patient's details. So, you wouldn't have to worry about any infringement of your privacy.
No language barrier- Indian doctors are well versed in English, ensuring easier communication with foreign medical tourists. 
Better survival rate- The 5-year survival rate after prostate cancer surgery or treatment is 64%. Not just that, a conducted study in Mumbai, India, found that the success rate of prostate cancer treatment along with surgery was 91%.
What Is the Cost of Prostate Cancer Treatment in India?
Better association with hospitals allows us to provide our clientele with the lowest cost for the treatments following their diagnosis. Aside from the actual prostate cancer removal surgery, doctors recommend a few other alternative treatment options.
We have given you a quick rundown of each of the treatments, as mentioned here.
| | |
| --- | --- |
| Type of Treatment | Allied Cost |
| Chemotherapy | Starts from INR 35,000 |
| Radiation Therapy | Starts from INR 2,00,000 |
| Brachytherapy | INR 60,000 |
| Surgery | Starts from INR 1,60,000 |
Factors Affecting the cost
Duration of hospitalization

Type of Hospital Room Accommodation

Treatment Charges (Doctor fees, Hospital Bills)

City the treatment is done in
Take Away
Prostate Cancer is a leading type of cancer that affects men. With the higher success rate of the treatment and procedures involved, India poses as the leading country for effective treatment. India has a premium panel of experienced doctors and high-end medical infrastructure that deems it suitable for medical tourists. The treatment costs are also quite inexpensive, further justifying the popularity of India as a leading center for prostate cancer treatment.