Dental implants are an excellent choice for patients who require tooth extraction or are missing teeth due to decay or advanced disease. Patients have a series of choices when it comes to the types and materials of dental restoration. Patients with multiple missing teeth are ideal candidates for a denture or bridge and those requiring a single tooth's replacement will typically opt for a dental crown.
Table of Contents
Feel free to skip ahead if one topic catches your eye: 
What are Dental Implants and Its Restoration types?
Acting as orthodontic anchors, Dental Implants are surgical components that interfaces with the jaw's skull or bone for supporting a dental prosthesis such as a denture, crown, or bridge.
Types of Implant Restorations
Single tooth replacements:

During this procedure, a single implant is performed to support a single crown.

Multiple tooth replacements

: Multiple implants are carried out to replace multiple missing teeth to support a fixed bridgework and a 3-unit bridge that is supported by two or multiple implants to support a greater number of teeth. Typically, a minimum of 4-8 dental implants is required for replacing a full arch of teeth.

Combinations of fixed and removable bridgework:

Usually, implants are used for supporting a region of fixed bridgework that features a removable section.

Anchorage for tooth movement (orthodontics):

Standard, micro-mini, or mini implants are used for offering non-movable and stable anchor units to facilitate easier and quicker tooth movement.

Overdentures

: Two or more mini or standard implants are placed to preserve the underlying bone and stabilise the denture. While a majority of traditional full dentures are directly placed on the bone and gum causing bone loss by resorption, overdentures safeguard the bone.

Endosteal:

During this dental implant procedure, implants are placed in the jawbone. Usually shaped like small screws and made of titanium, Endosteal implants are the most commonly-used type of implant.

Subperiosteal:

Placed above the jawbone and under the gum, Subperiosteal implants may be suggested to patients who don't want a bone augmentation procedure or don't have enough healthy natural jawbone.
Dental implants are ideal for someone who:
has healthy gums and teeth

is committed to high standards of oral hygiene

is a non-smoker or can stop smoking during the entire process of dental implant

has sufficient bone density for supporting the dental implant
Dental implants are not for young people whose jawbones have still not stopped growing or substance or alcohol abusers or someone who is least likely to take good care of their gums and teeth. People with health conditions such as hemophilia, uncontrolled diabetes, significant immune deficiencies, or connective-tissue ailments or those using drugs or steroids are not the ideal candidates for dental implants. However, you may still have a word with a dental implant specialist to find out if you can be a good candidate for dental implants.



How you can prepare for Dental Implant treatment in India?
Before you apply for a medical visa to get dental implants in India and leave your resident country, it is important for you to arrange for certain documents. The list includes scanned copies of your and your attendant's passport copies. You should also have 5-10 photographs of you and copies of the medical visa. It is also suggested to have proof of residential address and required funds for the dental implant. 
Furthermore, you should have copies of your dental x-rays and other medical reports along with the recommendation from a doctor of your resident country to visit a specific specialised medical facility in India. You may also be required to submit reports such as Random blood sugar, HBA1C (Glycosylated Hemoglobin), BT/CT (Bleeding time and clotting time), CB-CT (Cone Beam Computerized Tomography), and CBC (Complete Blood Count).
If you are a smoker or engage in the consumption of alcohol, it is recommended that you must quit them as they may interfere with the healing process.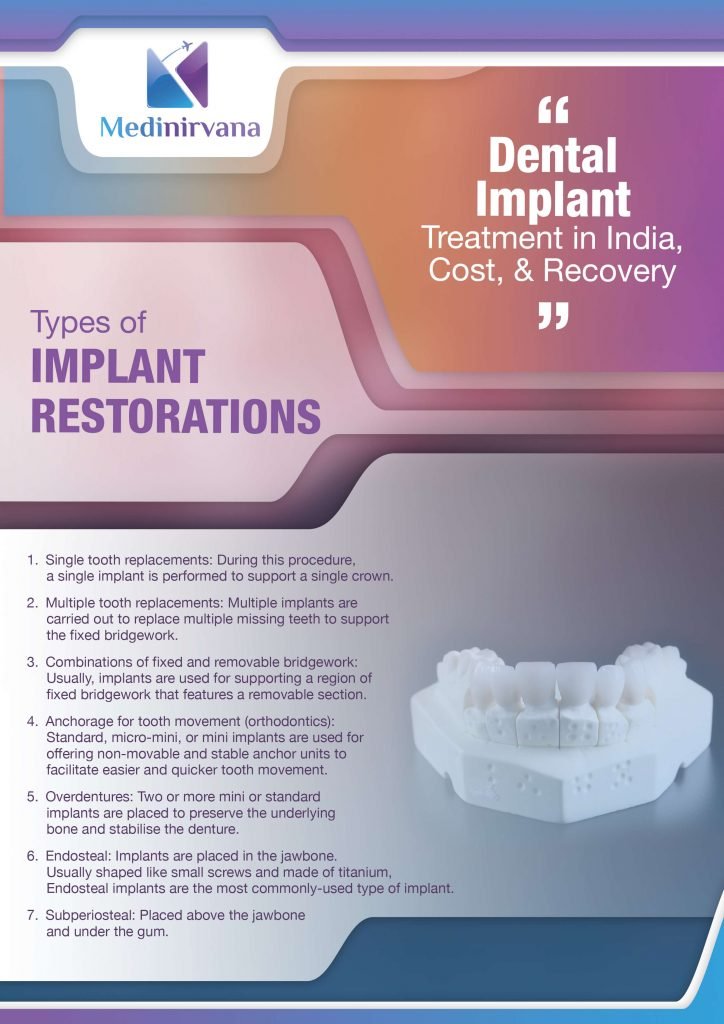 What to expect While Considering Dental Implant treatment in India?
The success rates of dental implants differ based on the location of jaw implant placements. Typically, you can expect a success rate of approximately 98 percent and implants to last a lifetime with proper care. Usually, a dental implant procedure can take around 1-2 hours and you can return back to your home or accommodation on the same day. You can expect your jaw to get fully healed within 6-9 months though this duration may be significantly lower in most cases.
The dental implant hospital in India may use different materials for the implant. This may include Tantalum, Titanium, Polyethylene, Zirconium, alloys of titanium/aluminum/vanadium, PMMA (polymethyl methacrylate), carbon, silicon rubber, or aluminum oxide. 
It is worthwhile to note that dental implant surgery is performed under local anesthesia and therefore there is negligible or no pain during the entire procedure. However, you may experience a slight pain once the effects of anesthesia wear off though there is nothing to worry about as you will receive painkillers.



Why Choose India for Dental Implant Placement?
With more than 2 billion people worldwide without health insurance and the waiting list for state-run facilities growing at an unprecedented pace, it makes sense to visit a country like India that offers premium healthcare services at a fifth or tenth of the cost abroad. 

A majority of hospitals in India are characterised by cutting edge diagnostic equipment and the latest technology advancements. 

These medical facilities conform to the highest standards of quality performance improvement, patient safety and hygiene, infection prevention and control, and the environment of care even during today's challenging pandemic times. This is why medical tourists place their trust in Indian hospitals for dental implants and other medical procedures.

Thousands of medical tourists visit Indian cities such as Chennai, Mumbai, Hyderabad, Delhi NCR, and Ahmedabad for dental implants from countries as far as the United Kingdom, Canada, the Middle East, the United States, and African nations. This is primarily because India is home to some of the finest medical professionals in the world and Indian hospitals enjoy a phenomenal success rate, even for complicated procedures. 
When you select a dental implant hospital in India, you are always assured of the courteous and dedicated services of skilled and experienced dentists and implantologists who have years of experience behind them. The fact that the Indian Medical Council has some of the most stringent rules and standards for medical professionals means that you are always in safe hands.



What is the cost of Dental Implant Placement in India?
The cost of dental implant placement in India usually ranges from 20-50k INR depending on many factors, including but not limited to the success rate of the doctor and the hospital, qualifications and expertise of the doctor, the patient's health condition, type of implant, accommodation, etc.
With immediate load dental implants or Teeth-in-a-day, the denture or bridge is attached to the implant abutment on the same day when the implant gets placed in the jaw. This involves the use of implants that are comparatively smaller in diameter as compared to traditional implants.
Alternatively, the doctor may recommend All-on-4, which is a dental procedure to place a bottom or top set of full arch or replacement teeth. During this procedure, the doctor places four dental implants to avoid the requirement for bone grafting and may use special abutments so a temporary set of replacement teeth can be placed on the same day. The surgeon would ask you to stringently follow a modified diet while the implant bonds with the natural bone and the gum tissues heal. Permanent replacement teeth will be placed after six months and you can thereafter resume your regular diet. 
The cost of the All-on-4 procedure is about

Rs. 58000-90000

(USD 900 – 1400).

The cost of Korean made implant placement varies from INR 20000 (USD 300) per implant.

The cost of OSTEM implant placement varies from Rs. 29000 (USD 450) per implant. 

The cost of German implant placement varies from

Rs. 35000

(USD 550) per implant.

The cost of Nobel Biocare implant placement varies from Rs. 40000-45000 (USD 600 – 700) per implant.

Immediate load implants may cost Rs. 40,000-45,000 (USD 600 – 700) per implant.

Mini implants may cost about Rs. 20000 (USD 300) per implant. 

Basal implants may cost you around Rs. 15,000-30,000 (USD 300 – USD 600) per implant.

One visit implants may cost Rs. 29000-45000 (USD 450 – 700) per implant.

Zirconia implants may be priced at Rs. 15,000-30,000 (USD 300 – USD 600) per implant.
Takeaway
The best part about visiting a dental implant hospital in India is that you can expect a quick and hassle-free procedure for obtaining medical visas and assistance within just a few clicks. Furthermore, you can expect the best prosthetics used in dental implants that can survive a lifetime along with the best hospitality and infrastructure. In addition to all these and many more advantages, India is a land of an English-speaking population that means there will never be any language barriers when you want to have a conversation with your doctor, surgeon, the medical staff and other people