Are you looking for an effective and safe way to improve the appearance of your teeth? If yes, Dental Veneers may turn out to be a great choice for you as they can easily change the shape, size, length, and colour of your teeth so that you are never shy to express your beautiful smile.
Table of Contents
Feel free to skip ahead if one topic catches your eye:
1. Introduction to Dental Veneers
Dental Veneers, also known as dental porcelain laminates or porcelain veneers) can be defined as custom-made and wafer-thin shells of tooth-coloured materials that are designed to cover the front surface of the teeth to improve the aesthetics. These custom shells are bonded to the front side of the teeth to change their shape, size, length, or colour. Usually, Dental Veneers are used for correcting tooth imperfections like chipped or stained teeth.
For decades, porcelain has been the first line of choice of material for most dental veneers. These days, you can even find dental veneers made from glass ceramics with strengthening fillers (made from Leucite-reinforced ceramics, lithium disilicate, or both) that add aesthetics, strength, and ease of fabrication to enhance the accuracy of their fit and create beautiful, natural results.
Benefits Of Dental Veneers
One of the biggest benefits of Dental Veneers is that they make your smile more pleasing to the eyes. Since they are custom made for each patient, and fit perfectly.
The design of Dental Veneers is customised to fit according to your tooth structure and facial symmetry so that they feel and appear natural to you and others.
People opting for Dental Veneers require little or no anesthesia and the results can be immediately noticed.
Dental Veneers can be an excellent choice for people who have misshapen teeth, discoloured or stained teeth, gaps between the teeth, missing teeth, or chipped teeth.
Dental Veneers are non-porous and permanent.
These are also resistant to staining and tooth decay.
They are long-lasting and you can easily expect them to last between 10-15 years.
You just need to brush twice a day and floss once a day. Dental Veneers don't require any kind of special maintenance.
Dental Veneers are an ideal choice for people who want to whiten their teeth permanently instead of opting for teeth whitening every year.
Veneers can be a durable way to replace enamel worn away by acid reflux disease, harsh tooth brushing, or highly acidic foods.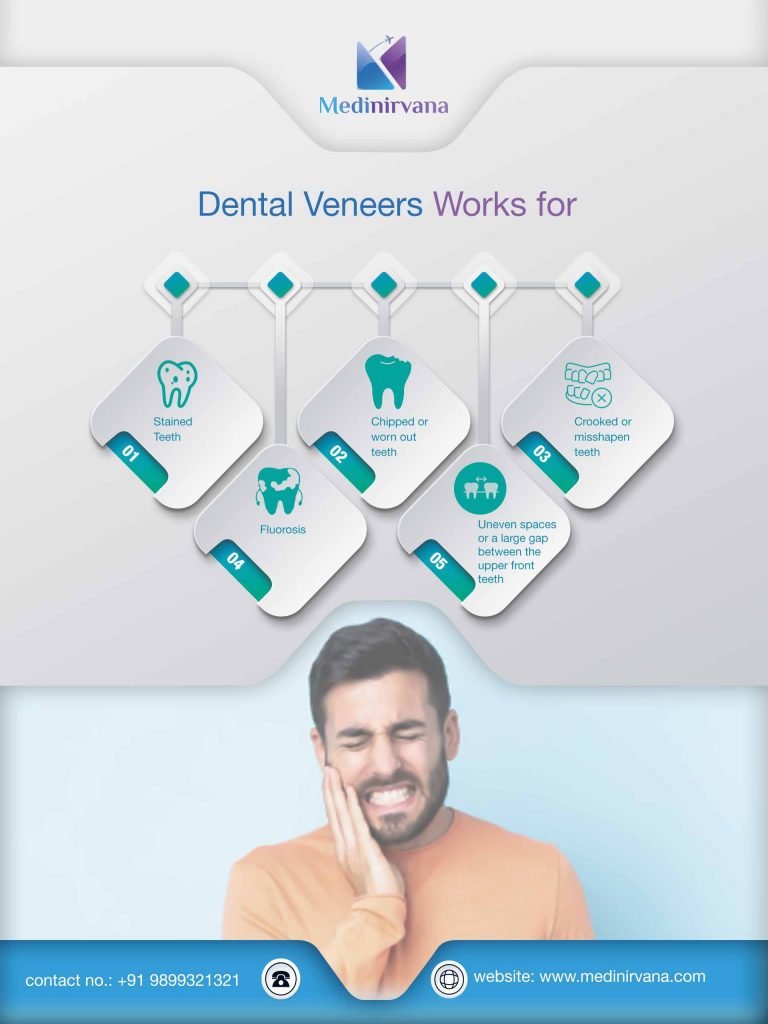 2. Things to Plan While choosing India for Dental Veneers
It is important for you to arrange for the following documents before applying for a medical tourism visa:
Copies of your medical reports and history
Proof of residential address
Passport with a validity of 6 months
Copy of the online visa application form
Recent Passport size photographs
For patients under the age of 18 years, a no-objection certificate signed by both parents
Proof of relation copy and passport copy of attendant
Recommendation from the doctor in the resident country to visit a specific hospital or clinic in India for treatment
It is also important that you should observe a high sense of care and diligence when it comes to your medications, lifestyle, and overall health before you visit India.
In India, you will get Proper care and assistance from highly experienced surgeons. The best thing is that you can approach MediNirvana, an eminent name in the world of Indian medical tourism, for assistance and guidance on medical visa approvals, currency conversion, travel arrangements, pre-treatment and post-treatment care systems, and the arrangement of accommodation for attendant of the patient during and after treatment.
3. Pre and Post treatment care
It is important for you to stay informed about the pre- and post-treatment care tips and precautions.
You must take good oral care and maintain hygiene before using dental veneers.
You should stop smoking and alcohol.
It is best for you to lead an active lifestyle.
You should cut down on tea and coffee consumption.
It is best for you to have a word with the dentist on the types of medications to take or avoid.
You will have to attend a preliminary appointment with the dentist before you receive your dental veneers. This appointment is meant for discussing which option will be the best for you and how many veneers you require. In some cases, you may be asked by the dentist to have braces before veneers can be placed (when teeth are uneven or crooked). At this stage, the dentist will usually take X-rays for evaluating the general and overall health of your teeth. The dentist will also look out for any possible signs and symptoms of tooth decay, the requirement for root canals, or gum disease. You may not be a candidate for dental veneers if you are suffering with any of these conditions.
At the next appointment, the dentist will trim down about ½ millimeter of the outermost layer of the tooth to create space for veneer placement. Thereafter, a teeth impression is taken. The mold is sent to the laboratory so your veneers can be created. It is worthwhile to note that it usually takes around 1-2 weeks for your veneers to come from the laboratory. Once the veneers are received by the dentist, you will be asked to visit the dentist's clinic or hospital to have them placed. The dentist will evaluate the shape, colour, and fitting of your veneers to ensure they are ideal for you.
The dentist will then thoroughly clean your teeth to avoid bacteria getting trapped under the veneers. A dental cement is used for binding the veneer to the tooth.
The second appointment will take about 2-3 hours.
As part of the post-treatment care process, you should avoid chewing on hard objects such as fingernails, ice, or pens.
You should not use your teeth to open condiment packages or packaging.
If you have a habit of clenching or grinding at night, you should get a retainer or splint for protecting the veneers.
You should wear a mouthguard if playing sports.
It is best for you to consume harder foods with the back teeth only and try not to engage in chewing with the front teeth.
4. What does recovery look like?
The recovery process is quick and you can start chewing and eating food normally once the veneers are cemented. You can expect immediate results and a short healing and recovery period. The dentist and his or her team will continuously monitor your general and overall health before, during, and after the placement of dental veneers. It is worth noting here that the success rate of the dental veneer placement will depend on a number of factors such as the type of procedure performed, the type of dental veneer material, the expertise of the dentist, aftercare etc.
5. Alternatives to Dental Veneers
If you are looking for alternatives to Dental Veneers, you may try micro bonding, Invisible Orthodontic Treatment, Immediate Veneers, teeth whitening, clear braces, and Adult 6-month treatment. However, you should always have a word with your dentist who is the best authority to evaluate you and make a recommendation.
6. Cost of Dental Veneers in India
The estimated cost of dental veneers in India is about INR 10,000-25,000 though it may vary from one clinic to another. Some of the other factors that determine the cost of dental veneers in India are the type of veneer material, the success rate of dental hospital or clinic, pricing of accommodation, the patient's general and overall health, etc.
7. Why should you Prefer India for Dental Veneers?
If you are looking for the best medical tourism destination for Dental Veneers, India can be a good choice for you. The country offers world-class treatment options for patients across the world at competitive prices. Over the last few decades, the country has made significant and noteworthy advancements in healthcare.
The Indian government recently launched specialised Medical Tourist visas to assist patients from all over the world.
Some of the biggest advantages associated with choosing India as your preferred medical tourism destination are highly-skilled doctors, internationally-accredited private and public hospitals to deal with several patients at one time, cost effectiveness, no language barrier, and expertise of Indian doctors and surgeons to deal with complex health conditions.